Ottawa was a complicated overpass highways area; I had completely been lost not understanding where to go off, and before I knew it I was parking in a large parking of a supermarket. In the next lot a car came and stopped; the guy wasn't getting off and staying at the driver's seat. I asked him for a direction with a map in my hand. His English was very easy to understand and he could realise what I wanted to say too; I thought Ottawa should be more international environment for English language. Fortunately I was by the way to the hostel I wanted, but I lost my way again in the twilight of evening.
"Excuse me, do you know where the 'Jail Hostel' is?" I asked to a woman on a back-street parking my car, in a polite way so that she wouldn't suspect me. She instantly replied to me how to get there in a kind way, but she said, "Do you really stay there tonight?" I thought that the hostel was famous in this city and that she was very open, but couldn't understand what she meant until having a bed.
The Jail Hostel was absolutely an old jail with bars and a gallows but used as hostel. The receptionist girls were nose-piercing. When entering my dormitory, I saw a black guy was sitting on a bed hanging his head in darkness over a bars. I got under the illusion that I was in a real prison. He came from France and was seeking for a job, his English was not great and somewhat he kept other guests at a distance.
I learnt that the last hanging in Canada was prosecuted here in 1940's and that the death penalty of Canada was demolished in 1960's; whereas, Japan as well as the USA are still having the system. In one hand Canada have been doing cruel activities on aboriginal people, in the other hand it have done such a progressed humanistic decision before other developed countries even consider it. I had difficulty to understand the gap.
However, I became to know that Canadian history has been always changed by the people's power, not by the government's power. That means that in the death penalty's case there were a lot of people to oppose it but that in aboriginal people's case there have been few people to utter that condemn the government. I think it's because many immigrants didn't know how the aboriginal people's situation had been. More importantly, many of the churches especially in the early days pressed their absolute justice on immigrants ignoring the values for aboriginal people, just like the United States have done so far and did for the reelection of George W. Bush. If no one began to speak, a problem would never be settled in this country. Actually, it is just until recently that the issue was taken up for discussion.
The Jail hostel was in the centre district of Ottawa. When I bought an Ontario wine, I first knew that all of the liqueur shops in Ontario were occupied by the Ontario government shops, LCBO. Hearing this fact at a register counter from an officer-like clerk, I felt something strange; There were also sales promotion posters for whiskies and others made by the government, furthermore a female chorus group began to sing a song while lined-up customers were buying handful of alcohols from 'officers.' I wondered if private sector vitality can activate in such a country as a government monopolies an alcohol market. I assume this is the remain of the old system; the government might not want to give up skimming the cream off the top.
I suspected that Ottawa, the capital of Canada, might not have any gangsters, and that was it. As I asked it to nose-piercing and tattooed punk-rocker receptionists at the hostel, they only knew the existence of motorcycle gangs. As from such a country as the order has been being kept by a balance or cooperation between police and gangsters, I couldn't believe it that such a clean country exists. Later, however, I came to know on TV news that the politicians themselves play the role of gangsters in this country.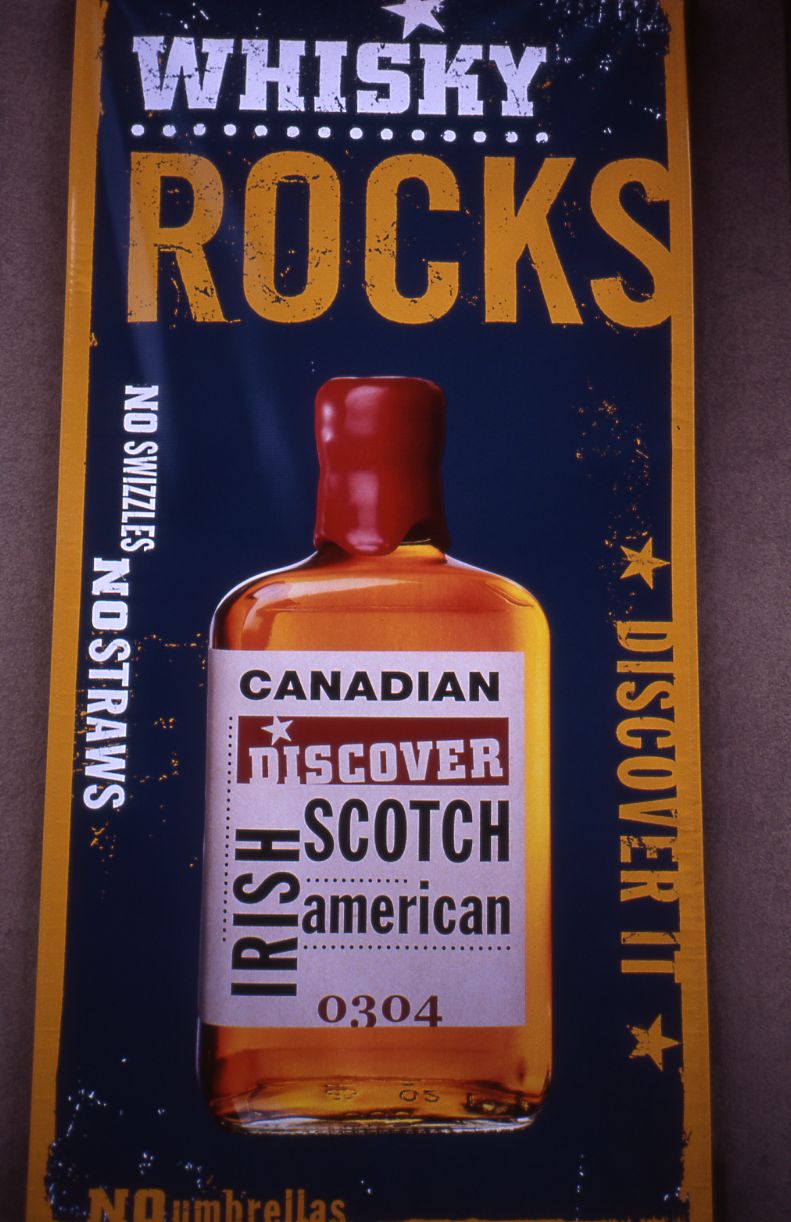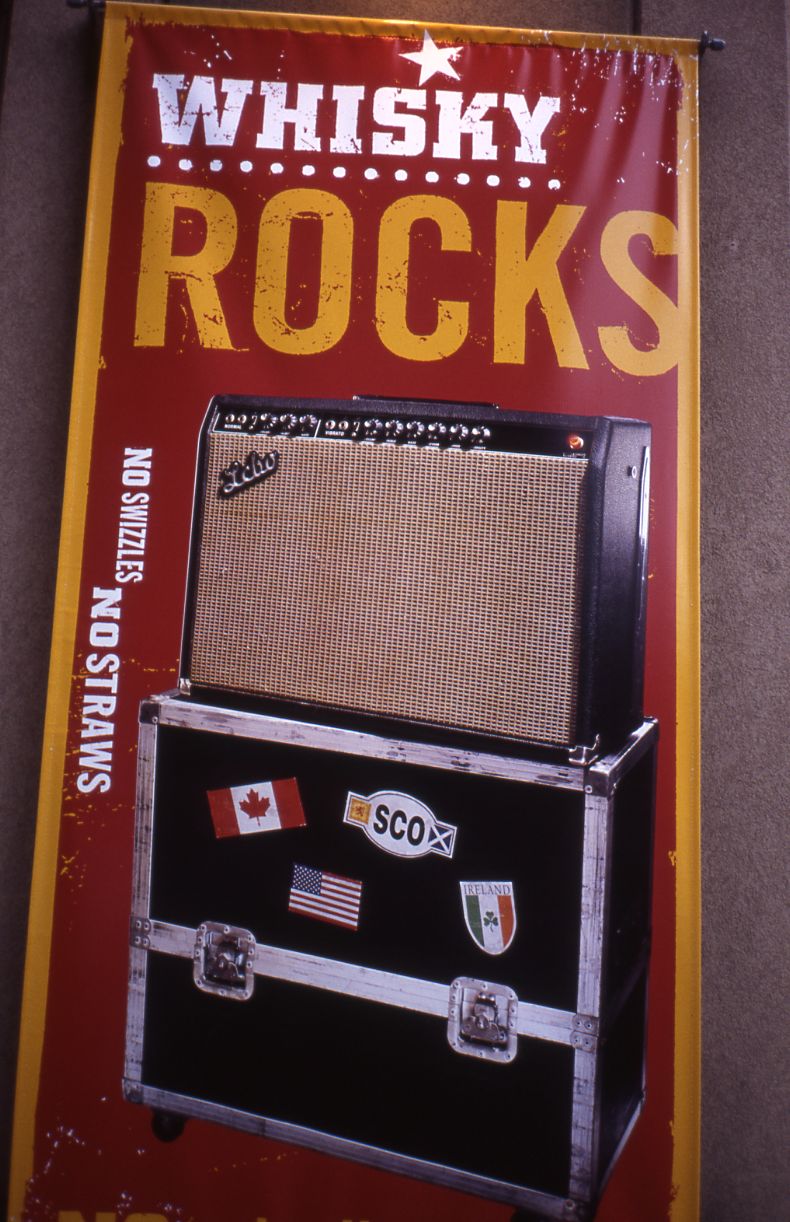 For good or evil, Ottawa is a good place to know the system of Canada. Then, how about Toronto? My curiosity got me hurry up my way. On the way at Prince Edward facing Lake Ontario, I saw lined-up Union Jacks on the street and learnt it was a Loyalist region. Having a coffee in a Tim Horton, I was the only Asian among customers and embarrassed with their staring at me. As approaching to Toronto, however, I was aware that they were more open toward me.
I wanted a room that night just before Toronto to compare with it. Unfortunately, however, the majority of motels around there were within Toronto. Finally, I found one at Ajax. A Halibut Fish and Chips I had near the motel was by far the best in those ever since I had. Even the Richmond's one was not able to compare with this. They were working with their family; after seemingly the father fried the fish using his fingers, a daughter got aware of it so rapped with old newspapers. She looked tired and handed me without smile, but their service mind was condensed into it. I was very impressed that such an artisan exists in fish and chips makers, and expected further better qualities not only in foods but also other aspects for Toronto.
Just after entered Toronto, I got a laundromat. To get changes to the machines, I bought a cigarette parking my car on the road. No one was in the messy small shop; I called again and again, then a Chinese-like old woman came from back. Her English was pretty bad and that somewhat in low-blow. Soon it appeared that she was from Japan, when I noticed that a policeman was writing something watching at licence of my car! "Wait! wait! wait," immediately I cried out rushing at him, "I'm just a traveller from Japan. Please forgive me; I've just bought a tobacco for a change." "That's good! That's good! I've finished already," the Black officer continued to smile to himself meanly. He handed me a yellow ticket for $20 fine. The woman asked me, "Was he a Black? Oh, yah, Black policemen are very bad. They only think about making points of tickets. You were unlucky, I'm sorry." Her Japanese with English was very confused in natural, but I got aware the fact that even such a poor Japanese Canadian look down on Blacks. This way, my first impression of Toronto was fairly bad, and this perception has not changed until leaving. After all, it was less than Tokyo in excitements and less than Vancouver in friendliness.
Needless to say, I avoided Niagara Falls. Having staying Toronto, I felt I had enough of Ontario. However, I wanted to fish in one of the 5 Great Lakes. I learnt Lake Ontario was contaminated enough as much as people even didn't eat fish caught there; as a matter of fact, there were no fisher ports around greater Toronto area and fishing in Lake Ontario was said to be defined in sports fishing to catch and release. Hence, I headed for Lake Erie.
Overpass highways to and from Toronto the numbers of cars including trucks were enough to understand the power of economy in Toronto; the many cars didn't decrease even reaching Southwestern Ontario.