Even though I had already abandoned pursuing an advertising career path in NYC, to know NYC seemed necessary for me as ad. creator as well as photographer. I flew to New York City for the first time, on the way returning back to Vancouver. New York was rougher than Canada.
Upon my arriving at the hotel/residence in Manhattan at night, the front-desk man said I had no reservations there despite the fact that I did by email in advance with telling arrival time. He told a rate per month, which was US$500 higher than they showed in a email. I asserted that it was different than what they had said. He excused that his boss in a different location should have received my reservations and that his is Crazy. If I want a negotiation, he said, I have to go another hotel/residence 10 blocks northwest.
I didn't want to concede due to being a Japanese who was unfamiliar with NYC. So I took a taxi with heavy stuff carrying and explained my situation to the driver. He kindly helped me calling some appropriate hotels, but appeared that the hotel I made reservations was by far cheaper. Then getting to the front-desk for the boss, an ugly-looking Black guy was on the phone; he was Patrick I corresponded in emails. He looked very busy in contacting customers even late at night. I asked him for confirming an email for my reservations on the computer in front of him. He got furious; he insisted on the price the other guy said and pressed me a sheet of unreasonable document printing out on the spot. I besieged him with further explanation, which prompted him to fire. His face was as if a demon. "You take it, or leave it!" The moment he said, he closed the door in the back room.
I had the taxi wait for me. "I don't like his attitude apart from the price," said I. "I understand your feeling, but this is New York where requests money everywhere and the price they offer can't be compared with others," he advised. I didn't have supper yet and it is becoming later, so I had no choice than returning to the hotel/residence. When I tipped him, he complained saying I should pay such and such. It was the first time for me to be required the amount of tip. This first experience of New York induced me to believe that I need to show written evidences in any case in this 'money-is-everything world.' Later, the Patrick asked me for shaking a hand with me, though.
As I mentioned, Mr Saito never emailed me this time. The due date of the submission, 7th February, has already passed when I was in Tokyo, and in Tokyo where he resides I had no contact him. It turned to March, but New York have been having snow almost everyday.
When going out, I had to watch my step for frozen snow as well as melting snow. Black people overwhelmed the towns. Everything in towns were expensive; I regarded Tokyo as No,1 expensive place in the world but NYC. There had all kinds of restaurants like Vancouver, but almost all of them were rough and expensive. The streets and houses, many of them were old high-rise buildings, were not comfortable with overcrowded people. I wondered if New Yorkers were really enjoying their life.
Only place I got fond of was the lower east side where Jazz spots remains. However, I found those cultural places were in the grip of crisis, with some places being torn down, because of the rising rents; I felt Japan became the country where people can't sustain their quality life without money, but New York appeared more significant. Music, pictures, and that sort of culture activities are originally apart from economic activities, and even pure truth which has no application whatsoever has been elevating life; however, these days even art demands economy or profitability.
Walking about art galleries, I saw some were closed and no vibrant life and energy. I had no feeling that here is the centre of the art scenes of the world, which had seemed common sense before 9.11 at least. I thought I am eye-witnessing the ending of the materialism that America developed.
Turning eyes to publications, the famous "LIFE" magazine which reissued recently converted into a comforting brochure for American families distributed by inserting in newspapers. America is becoming something out of America, without roots without originalities; they looked like becoming inorganic matters like robots. NYC was cold in both people and climate. Thus, I made up my mind to leave for Vancouver before completing the one-month-rent, buying the cheapest ticket to and from Manila via Vancouver.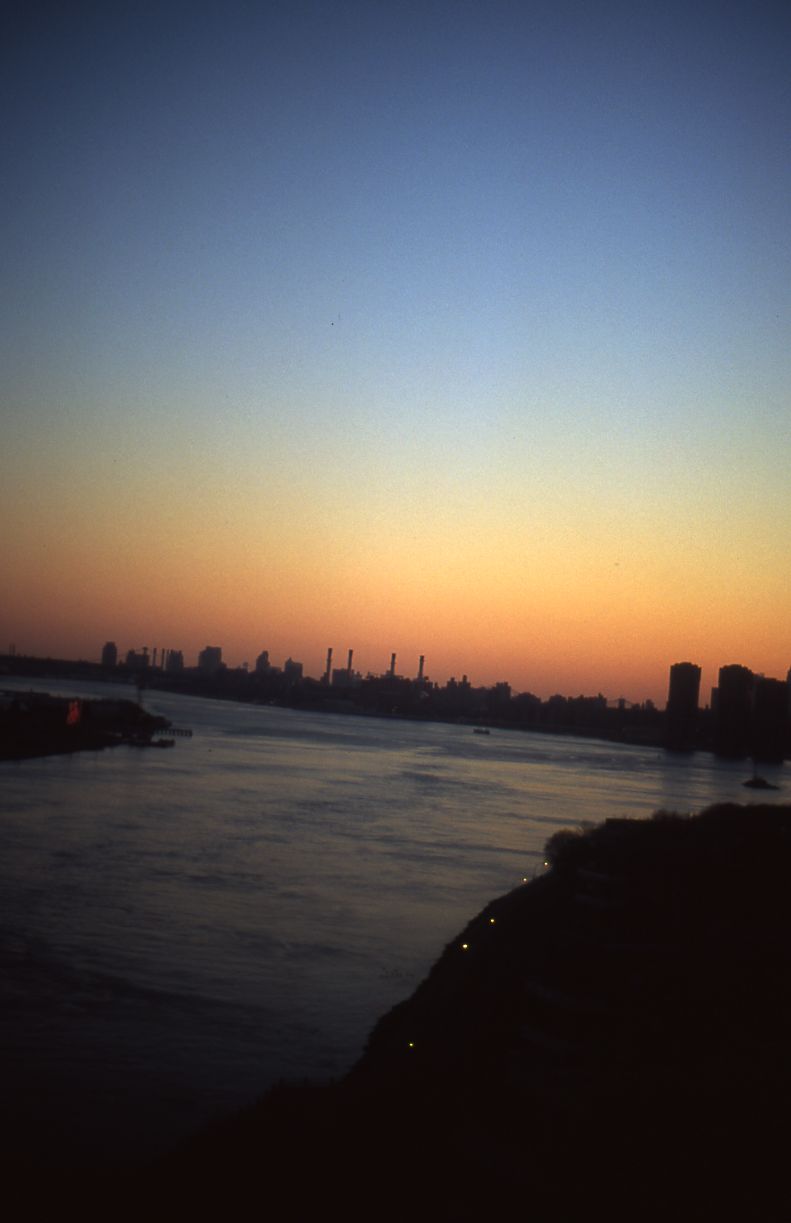 I emailed to Tony to tell the date and time of my arrival, since he told me he would pick me up; it was early March. He had told me before I left Canada that he would trip to Beijing. "Because," he said, "it was the only major city he didn't visit in the world." Even though, until the time I emailed, he was supposed to return home, he emailed me that he was still in Beijing and that he would email again about picking up. Even though I checked emails until the very departure day, he never emailed me again.
When I reached Vancouver airport, it was around 1 am 16th March. As I couldn't find Tony, I took a taxi. His kind way of speaking made me feel relieved. "Have a good sleep at your home," he said. I was very tired and couldn't count the appropriate tip for him with mixed up as NYC. But, he actually didn't want any tip from me! Oh, I lived Vancouver and the area.
The room light of Tony was still on when it was 2 am. Even though he usually noticed the door sounds when opened and closed, he didn't make his figure and I got into my bed soon. However, I found something was strange in my room. First of all, a clock I didn't use was on my desk with a booklet of Richmond City, and each my stuff was put differently as if someone had checked one by one.