I have got into Saskatchewan. No cars became to be seen on the road which had changed into unpaved. Taking the route into Meadow Lake Provincial Park, it completely changed to a muddy road because of rain. Occasionally I casted my rod at lakes which next to next appeared along the road, but no bites. While I was just resting by a garden-like landscape, Alberta number's cars parked and an old couple with rods got off and accosted me. "There are small pikes around here. My son is familiar with this area and looking for a good place to fish." Indeed, the other 4×4 went further into the bush.
Well, I'll make my way. I was driving as though I didn't know where I was headed for. The road with a lot of pools seemed to continue endless repeating endless up and down. Come what might, I'd be ready.
When I finally found a successive paved way, the gas was almost empty. What I found then was a gas-station-like facility in that it was the primitive only with a pumping machine in a large naked ground. A guy got out of the office and he made it filled up. However, unbelievably as it is he spilled over the outside of my car! He was much like an amateur. Seeing my taking pictures of him, he called his wife in the office to be taken too. She looked an Indian. I asked if there were any cheap motels near there. He said a motel with a bar should be fine.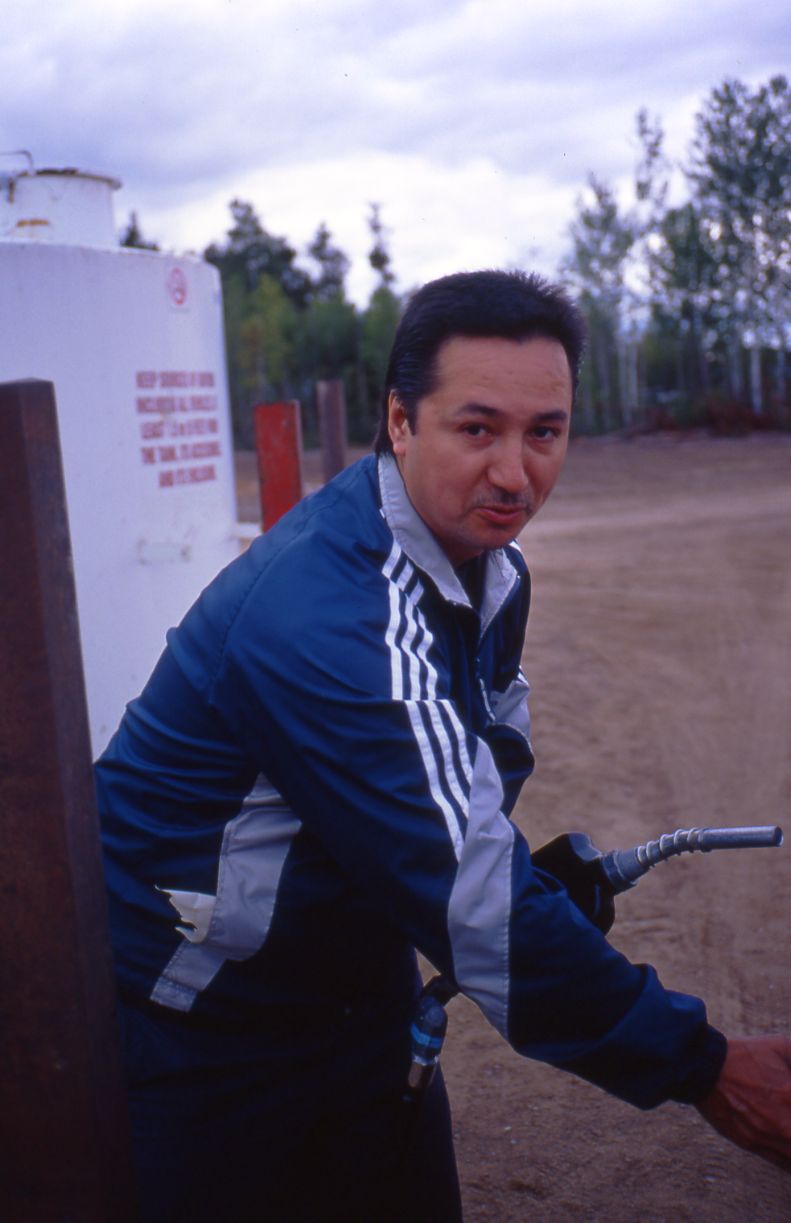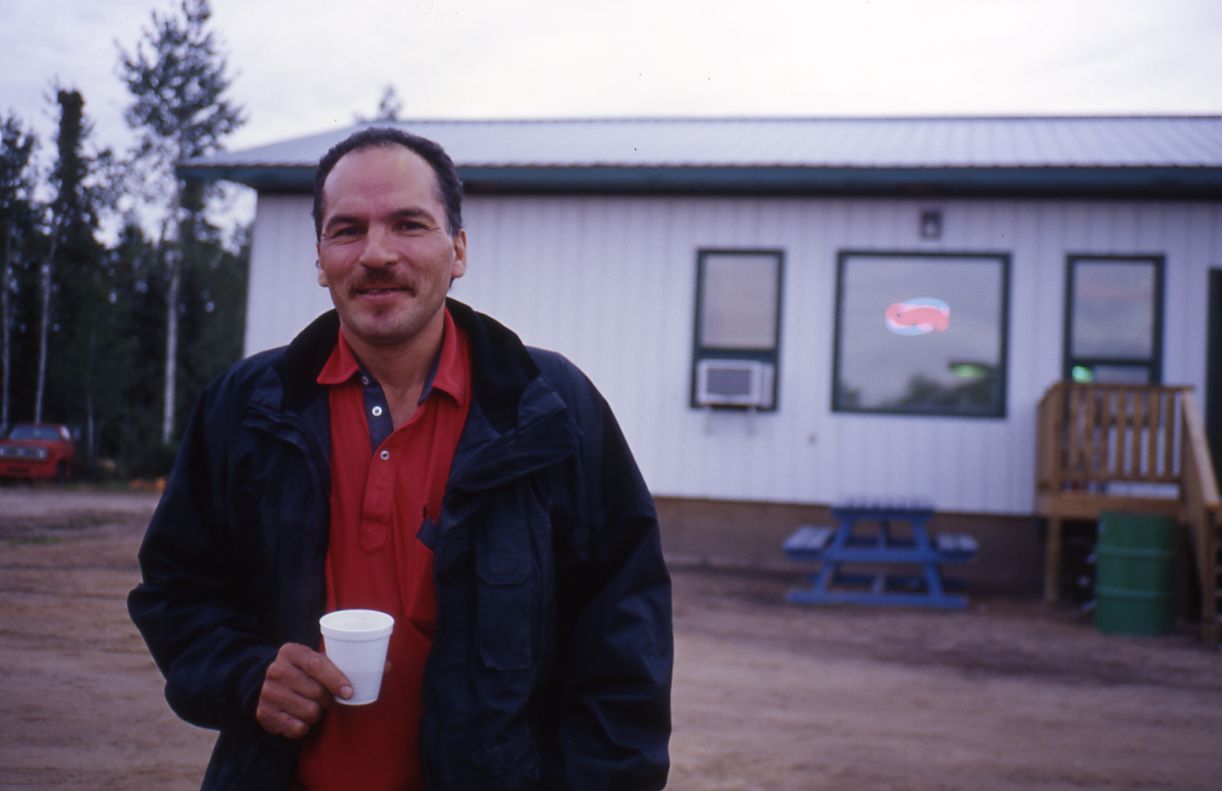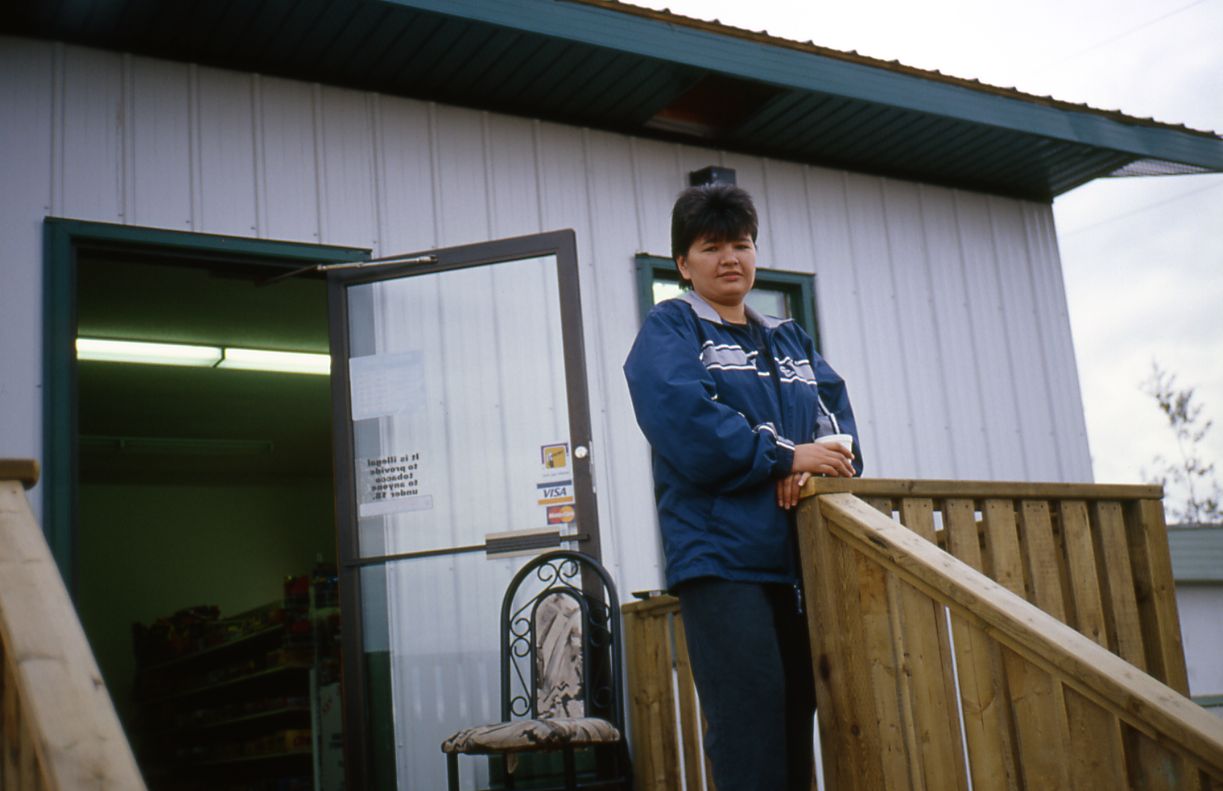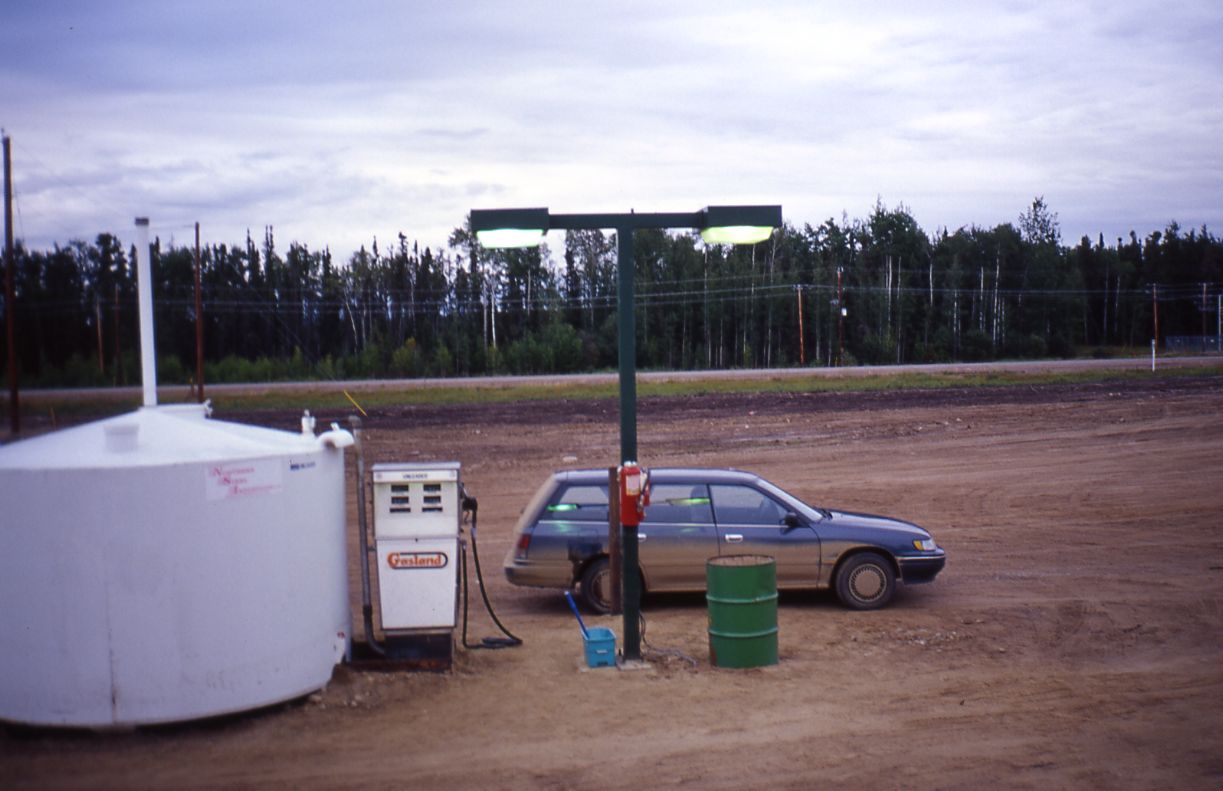 Entering seemingly an office of the motel, it was a restaurant and an unfamiliar faced woman, at first I thought she was from East Europe, indicated the next bar was the office. She didn't speak English much. After settling at the backwards cabin, I turned back to the bar and ordered a cup of high-ball. It is the soda-water downed whisky in Japan, though they asked if it was OK with Coke. No, instead I asked a bottle of beer, Canadian. She gave it without a glass. While waiting for a hamburger, I looked over inside the bar. Next to next seemingly Indians pushed open the door to the dark hall. Some treated themselves by game machines, and others sat in front of the table to cheerfully chat each other. They seemed to have no amusements at the end of the days except getting together here.
The next door's woman brought me the hamburger and said the bill was different from the bar's, to my surprise. A girl approached me like dancing and sat in front of me and asked me curiously a lot of things. Seeing I had difficulty to reply with a lot of food in mouth, she said after my finish eating she'll be back. I was surprised at such a positiveness of such a cute girl. I suspected her if she was a call girl, but she chatted with her boyfriends over a table with beer.
Observing me, she turned back to me and said, "Why don't you take pictures of such a beautiful girl in front of you? Take my picture!" I was putting my camera on the table. Then, another guy accosted me introducing himself and asked me to take his too. How merry people they are!
Having difficulty to remember names, she suggested me, "We are Cree, so call me 'C.' You are from Japan, so I'll call you 'J,' OK?" 'C' invited me to a concert; some famous band was coming to the next town and would play for them to dance. That might be why she was excited so much.
She asked me for drive. Unbelievably she said her car was stolen that day. Just after leaving the bar, she wanted another beers to enjoy on the way. I flatly declined. Then she asked me for a cigarette. I replied this was a non-smoking car; she took a sheet of gum from me. Having seen the speed metre, she requested me to run over 100 km/h. I replied I was not yet familiar with the right-lane to drive and that in a narrow road so I couldn't.
She began to call me, "Chicken! Chicken! Chicken!" I didn't care at all and said to her, "'C,' you are not only for you but also your family's. If you lose your life, your mother or father must become sad. You have to take care of yourself. I have to take care of you." "I don't care whenever I die," after a silence she began to try to use the cassette. She was like a lovely animal which made me want her. Facing up she said, "it was good to meet you." I was driving over an hour but never arrived. Her English was a little different and she couldn't understand my saying, "Are we near there?" Cold air of the sunset prompted me to urinate. She was laughing at me, though just before the town she in turn did her business.
It was Ile-a-la Crosse with 1,700 population to have the Metis Festival that night. In front of the entrance of the venue, 'C' and her boyfriends were somewhat hesitating; the concert needed an expensive fee and they didn't have enough money! Me neither, but 'C' suggested that if I claimed a journalist from Japan they might allow me to enter. Just try, and I've got! According to the mayer standing by the ticket desk, they are the mix-blood between Cree and French and celebrating its culture taking turns in related towns. The place looked like an old warehouse. When the band started play, young buys and girls by twos and threes walked forward to before the stage and danced in a primitive way. I thought tenderly of the people.
At the motel, I asked to the East-European-look woman if the people outside of Ile-a-la Crosse were not Metis but Cree. She said we are Cree and usually speak Cree language instead of English or French. Some people say they are Cree and some people say they are Metis; it was interesting for me.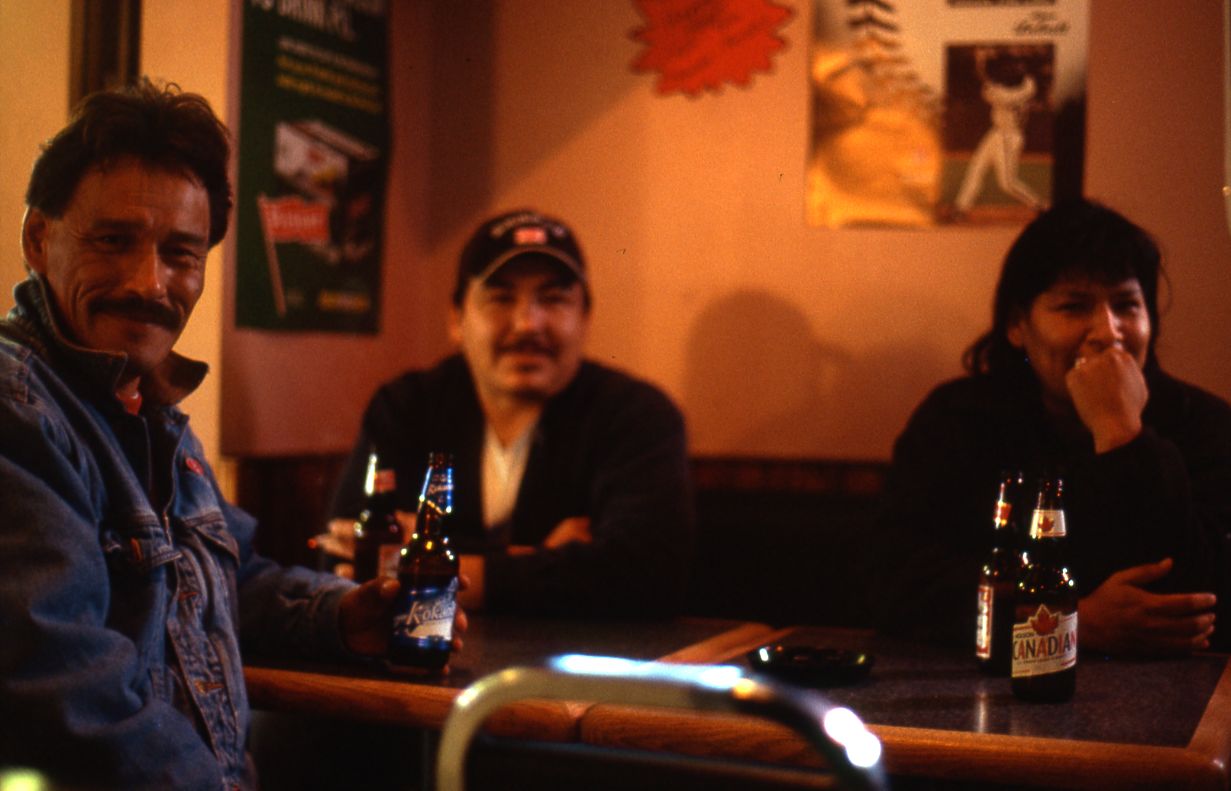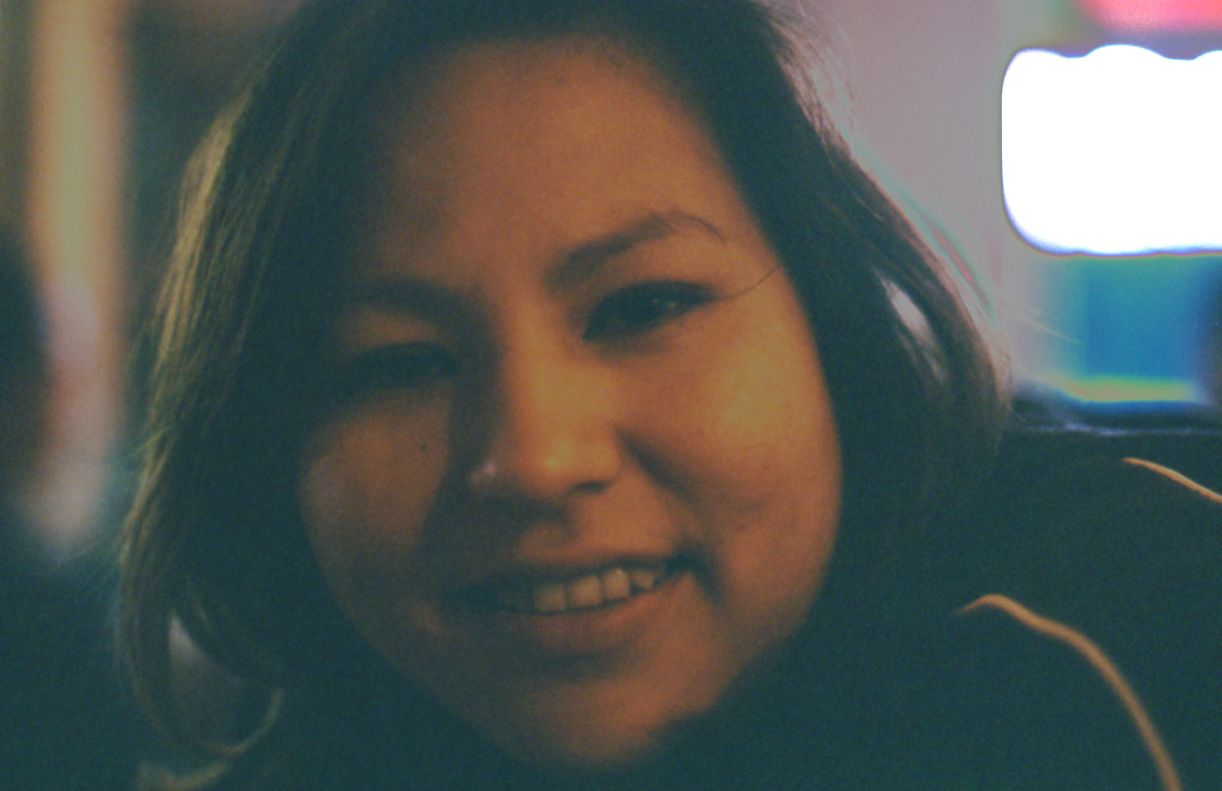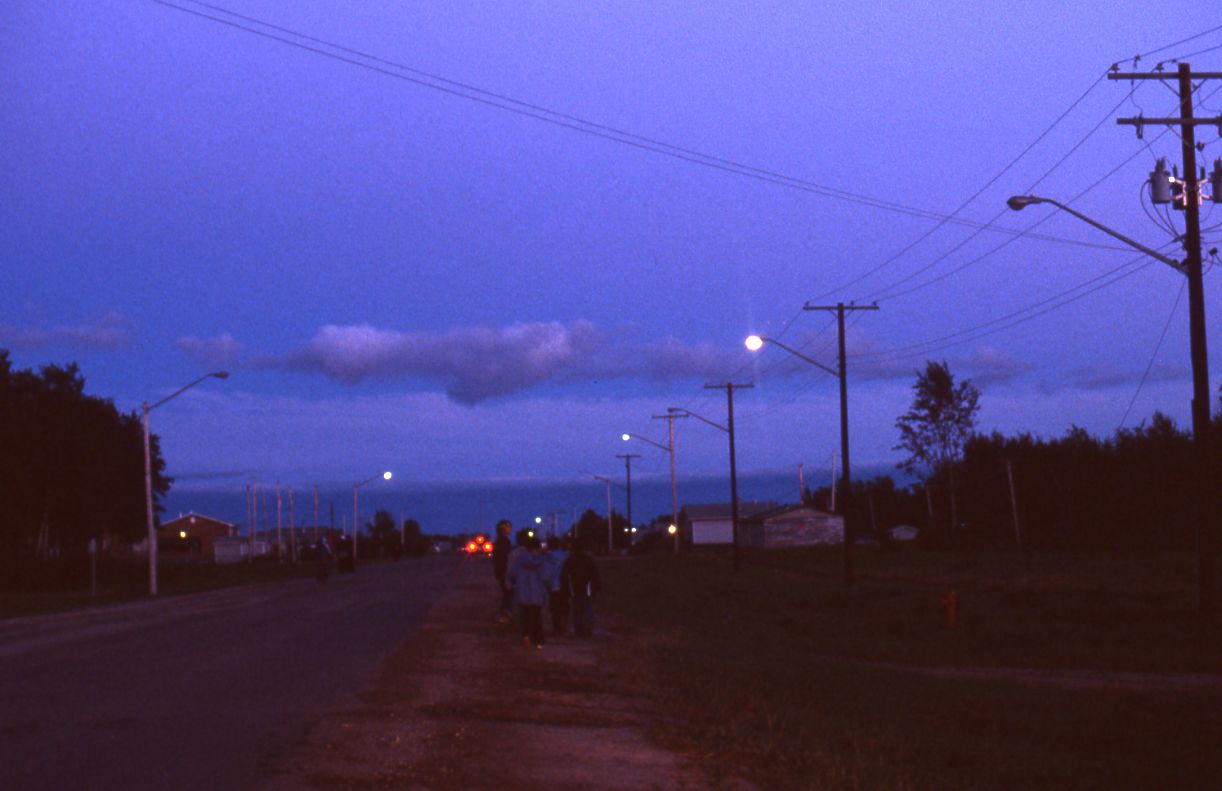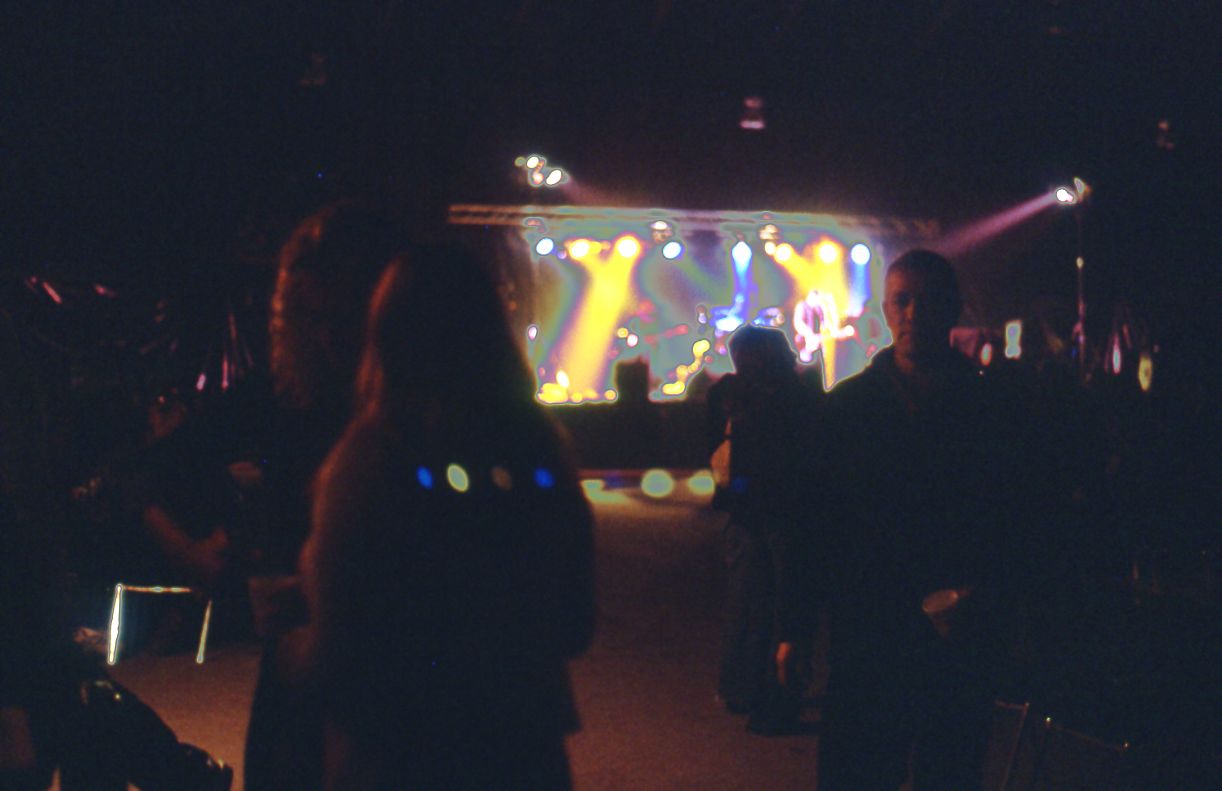 Now, I was feeling, I have to fish this precious interior of Canada. I bought another rod with reel and lures at the gas station shop, since the tackle I bought at Rocky Mountain was not good enough for larger preys. The huge lures displayed on the wall drove me to want to catch Northern pike, Trout, Walleye, whatsoever a big one. The wife's saying, "This yellow worm is very good for Pike. They like it very much," had me imagine unseen my preys. Such people as living in such a rural area must know much about fishing. However, I was amazed at that the husband couldn't make it for the line on the reel. Furthermore, later I realised that the grip of the rod was broken from the beginning! Such broken products should never be sold on shops in Japan.