The Confederation Bridge 13 km between Prince Edward Island and New Brunswick was said to be one of the longest bridge in the world; however, nothing was to be seen during the over 10 minutes drive of up and down, and ride was awful with vibration for rough surface. Strong side-wind on the bridge had me feel Canada.
Getting into New Brunswick, I felt the scenery along the highway became rather primitive with a lot of woods. On the way to south along the coast, I asked if there should be any appropriate fishing places. A man suggested that here too the fishing season has ended but at Alma I might be able to go off-shore fishing for sea-fish.
The motel man looked bored with everyday life but told me I can fish Striped Bass at the Salmon river mouth just aside. The mouth was with a small fisher wharf and the water smelled badly with dirty colour. It was early October becoming getting dark early. As casting, night fall down. On the opposite bank and under the lamp of the bridge on the opposite bank, two men appeared with rods and started casting and reeling like me. Sometimes good-size fish jumped a bit on the surface; one man whispered, "There! Just over there!." No matter how tried, however, the fish never bit. I remembered my childhood, when I couldn't get any bites when they were jumping in the evening. So did this time. With mercury lamps the fisher-boats were moored afloat on the dirty smell water, on which I focused my lens. Then, some men doing something got out of the cabin and started their cars away.
The next morning, I asked why the Salmon river smell so badly to a staff lady. "It's because of the sewage system at the upper stream. It used to be a Salmon river but any longer," she readily explained. I lost words being aware of the contrast between the beauty night scene and the awful fact. Passing by the boats I took pictures last night, the tide was completely ebbed from the area and they appeared to be propped by poor pedestals at their bottom. Alma was claimed to be a resort in Fundy National Park that is famous for its beautiful coast; I felt like I saw the backstage of the Canadian image.
My car was somewhat losing power in Nova Scotia's up and down, but recovered before I knew it; probably the muffler got leaked due to the age but sealed naturally by its fragments. Other than that, it was quite in good shape; the strange noise once heard from the engine has completely disappeared. Old things maybe can fix themselves. Having got the noise again by filling up Esso regular gas, I was trying to use Ultramar or Irving (Petro Canada stations were scarce in the East Coast). But, in New Brunswick, only the Irving stations were to be seen and the prices were the highest in Canada so far. That was because that Irving was the company of New Brunswick to mine the oil and that they have occupied the market. I wondered if it should violate an Antimonopoly Law.
Saint John was a scenic old town with history like in Nova Scotia, though, seeing an extravagant paper mill was energetic smoking out, I lost the enthusiasm to search for a good fishing point there. Motels were lined up an outskirts of the town and almost all of them were very old.
Mine was too and it was run by a Korean family. According to the landlord, New Brunswick was the cheapest place in Canada in many points, and the motels owners were next to next changed from Caucasians to Asians because they had not been good at accountings.
I expected tasty Korean dishes but they offered an awful western style dish and that in expensive price. The room was very old and seemed not renovated at all ever since; therefore, I felt like staying at ruins. He and his family was quite different from Mr Bae I met in Manitoba; they looked they cheated on customers only to eke money.
On the other hand, the lady of a laundromat was very very helpful and I also loved the people who were flocking there parking their jalopies on the soil. However, I had to think whatever made them feel fun living there. I made up my mind to go futher until I can fish before the United States. Thus I got to St. George, where was announced as famous as fish ladder falls.
As a matter of fact, however, the river was apparently contaminated with pesticide, and the figures of fish were not seen. It was a typical country town of the East Coast. I visited a fisher wharf, where a few people went to and came from fish-farms to feed and some guys group unloaded green-coloured Urchins. Asking fishing information at the small general shop, I got the right place of a person to whom I should ask; it was the Wolfhead Smokers which produce and sell Smoked Salmons and the owner love fishing.
He was surprisingly helpful putting down precise maps of the points, though he said it might be too late to fish for their move to deeper places. Just as his expectation, no Flat Fish, no Striped Bass or no bites came despite the fact that I tried two days moving about the area by my car. Only I could find was just like the Saint John; beautiful, to such an extent as sorrowful, but contaminated with smelled smoke of a paper mill.
However, Wolfhead's Smoke Salmon was pretty good with white wine. Matthew, the owner entrepreneur, eagerly wanted to hear my opinion for it, saying that Japanese people should be able to tell a taste of fish which they are so familiar with. Although, at heart, I wondered again why they want to make artificial taste using a special way of smoking and even herbs, I didn't point out that because it could be denying him. The smoked farmed-Atlantic-Salmon's taste was opposite to the super natural super tasty smoked White Fish made by Cree in Waskaganish, Québec.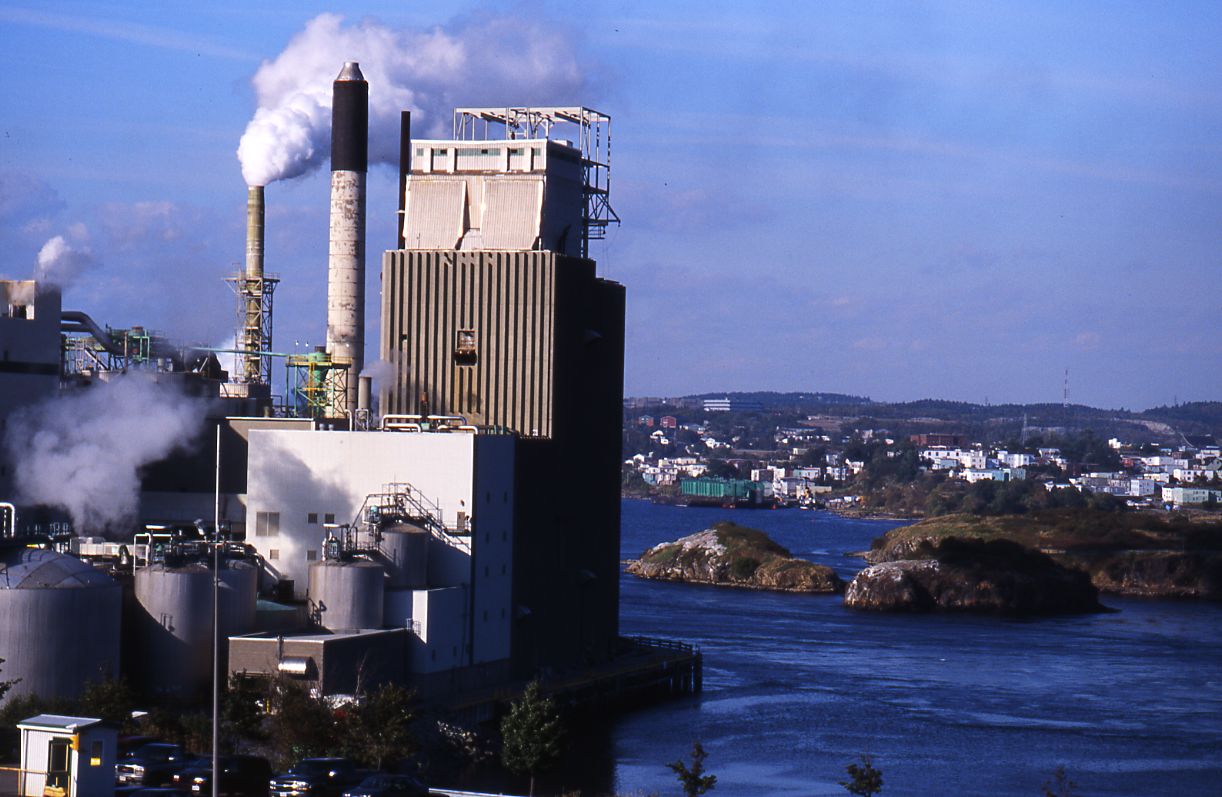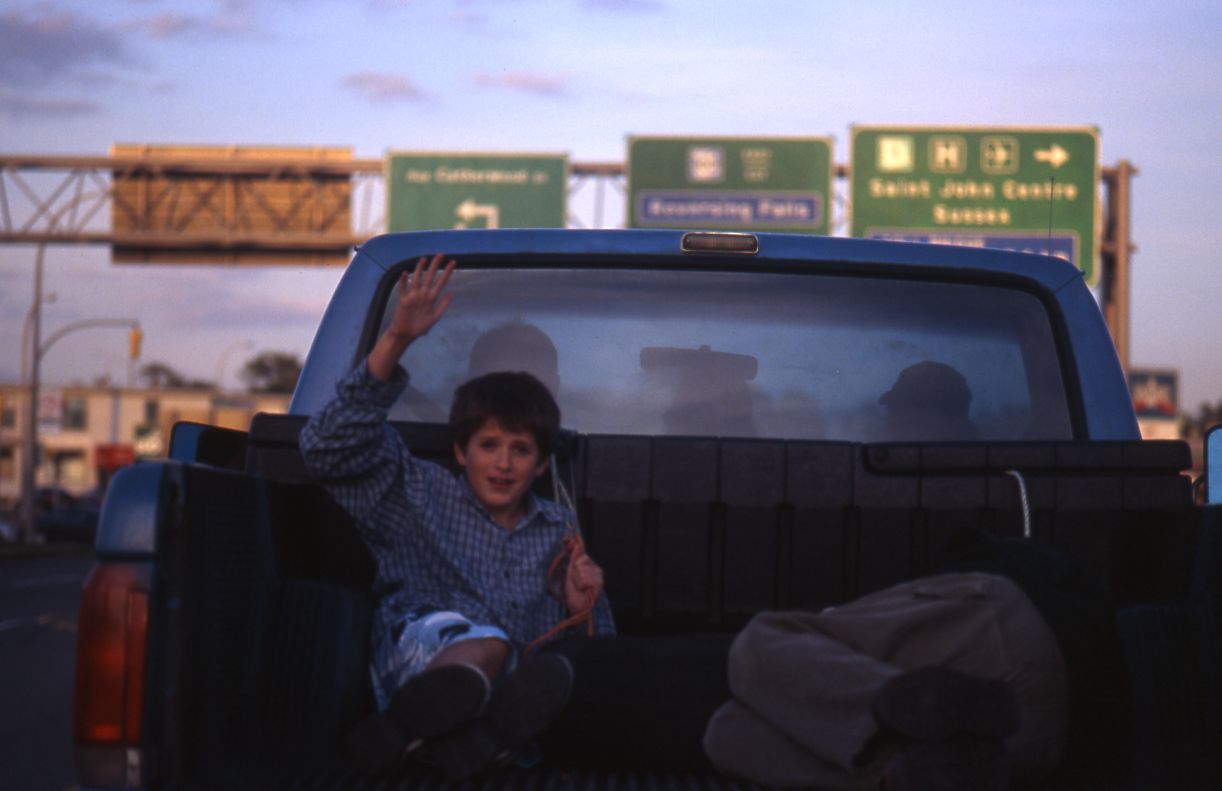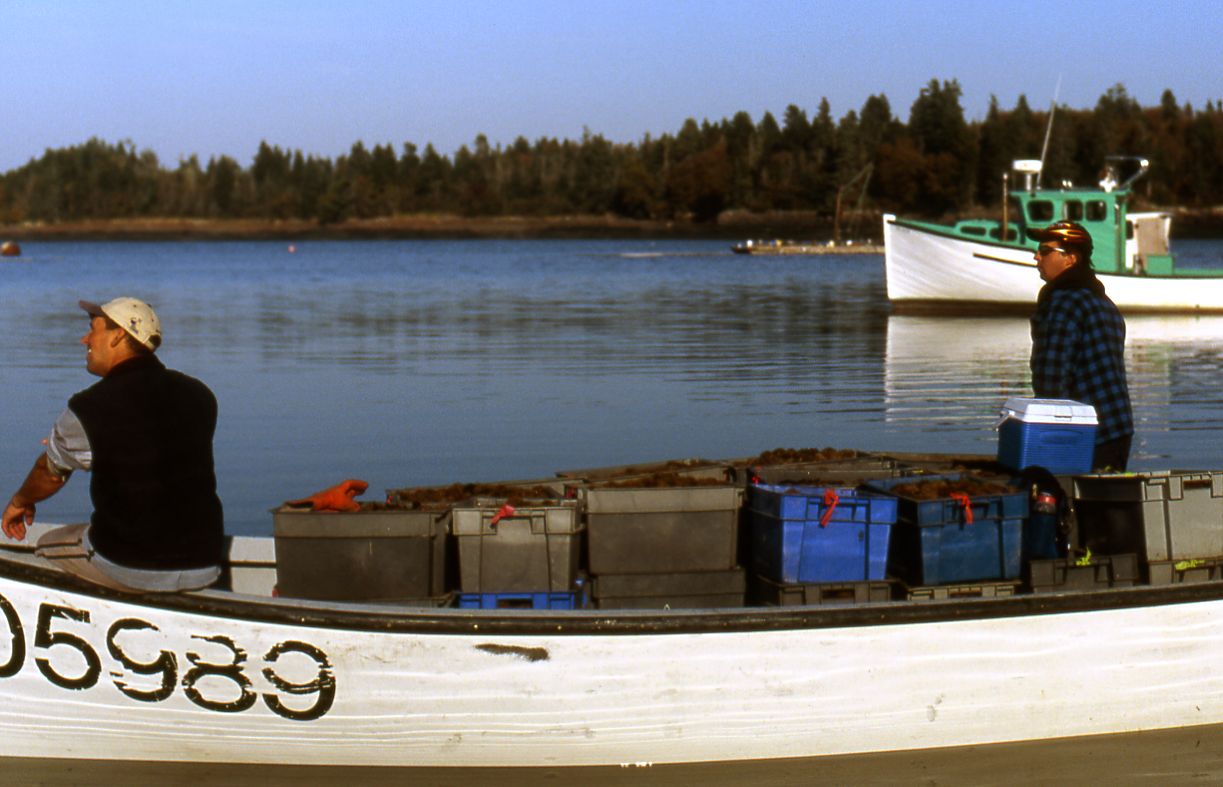 Someone said the life in New Brunswick is just the same as that in Main, the USA. The state of Main is known to be the place of gentle lumberjacks; I met a situation reminded me of them on the way to Fredericton. It seemed an ordinary gas station, but entering the office there was in confusion with a lot of men with coffee cups. I can't forget the cheerful atmosphere and even in the over-crowded room the men took care of me asking what I want. There have been nothing there except woods; I believed them to be lumberjacks.
What I was surprised at Fredericton was that it had no Internet cafes, despite the fact that it is the capital of New Brunswick; having been asked where it is, the visitor information person shyly told me so. It was Sunday and in town gentlemen with ties and suits were entering a church one after another. It was the first time for me to see the dress-upped people to a church.
I thought that New Brunswick was the passage everyone took to the East and South, but I wanted to see the Gulf of St. Lawrence coastal side because there was another home of Acadians. It was mid-autumn now; getting through along red leaves of Miramichi River, a tranquil coast line appeared.
Along it were colourful but poor houses with distant hills over the sea, which maybe lonely but was certainly beautiful. People there are to be able to tell the beauty in tiny things, I thought. I didn't meet any Indians but Asians; at the motel, she gave me the best room and best salad for the least price. When I saw she was getting along well with a middle-aged White woman, I became to feel happy.
About when reaching Québec on a highway, I saw a man like bear reclining against cut-wood on the deck of a truck as if he waited for someone. It was cold enough outside with north wind. What is he doing? But I shouldn't have been able to understand because I was not a man of North. Nevertheless, I thought he is beautiful; the man beaten by Nature is so cool. Looking back how it was, human beings have been always defeated by Nature; and only with which, our happiness exists, I think.