The bus started in the morning took rest breaks several times. As I was smoking at an ashtray outside, an old woman who was also smoking accosted me. "I'm from Nova Scotia and on the way home now. I visited my son who established and run the news paper of Prince Rupert." All of her children, she said, became independent already moving about all over Canada and such stories are pretty common among Canadians. Among of all things, according to her, the popular way to move to West like BC was to start ranches.
When I put off my tobacco into the ashtray to get back on the bus, the woman followed but threw it away. I didn't think a great mother would do such things. Later, as she knew I was taking pictures, whenever she found the remaining snow she pointed at it in front of my seat. All of them were not worth pictures, though.
Barns Lake was already in the evening when the bus arrived. Asked how to get to the Takysie Lake at the small bus-depo, he said it would take over an hour taxi ride. Over an hour from Yellowhead Highway? They say "Just Off Yellowhead Highway" on the ad, he confirmed if the motel could come receive me on phone but not. Then he also called a taxi company to ask the fee to Takysie Lake and it appeared well over double the accommodation rate. Finally, I asked to him whether there are any cheap motels near there. After telling me a few places, he casted the Greyhound slogan, "Take it easy," on my shoulder.
What a hell, I remembered a cold look at casted by the old lady when I got off the bus alone. Explained that how I came to the motel and that wanted a cheapest room to the motel lady, she really sympathised me. However, when it came to the rate she costed me a bit higher price than shown in a brochure, even though no other guests were there for the off-season.
I asked for fishing information because around Barns Lake has a lot of lakes. She called to another person, though it was too early to fish with thin ice on the surface of every lake. Then, I asked if I can take pictures of working people there. Some logger might be, she said, but eventually appeared no one was working that time!
"Okay", she said and her English was very clear to understand -she and her husband came from Germany-, "if you want to capture Barns Lake, you can observe two Indian bands. One is upwards and affluent with a lot of woods to log; the other is downwards by the lake and very poor without good rights. You can see the contrast between them." "But," I said, "it's maybe difficult to take pictures."
First, I called the hillside to hilltop band. On the way, asking my way to a grandma with kids I also saw middle to old aged men slowly stepped forward and rested sitting on a public building gazing at air without doing anything. Passed by an elementary school, I found a neatly lined houses along the road, some of whose widow showed the Maple Leaf flag of Canada. Other than a few kids running out and in a house like the Queen Charlotte kids, no one appeared. The neat houses, however, displayed messy around them scattered tools or what not unlike White people's houses'.
And then, next, I went to the poor band, where stood shark-like houses bit by bit in a wild. However, young guys out of them passed with me each other greeted smile greetings. Some guys were flocking together to cut timber just playing with each other. I was told that this district was poor, though it looked happier than the band on the hill. Passing over the poor band to a small park on the bank, a White girl amused herself on a swing. I accosted her but she never replied. The lake was surely still frozen and it was too early to fish, which only me might have not known.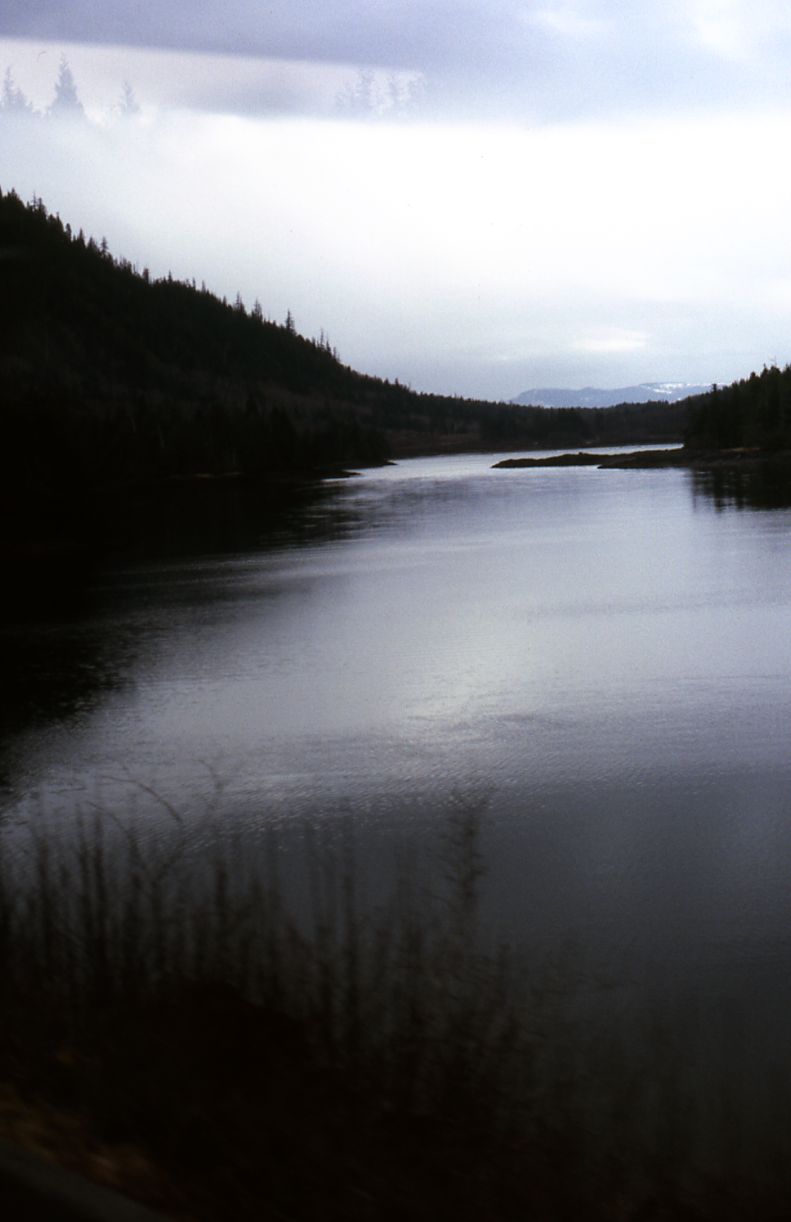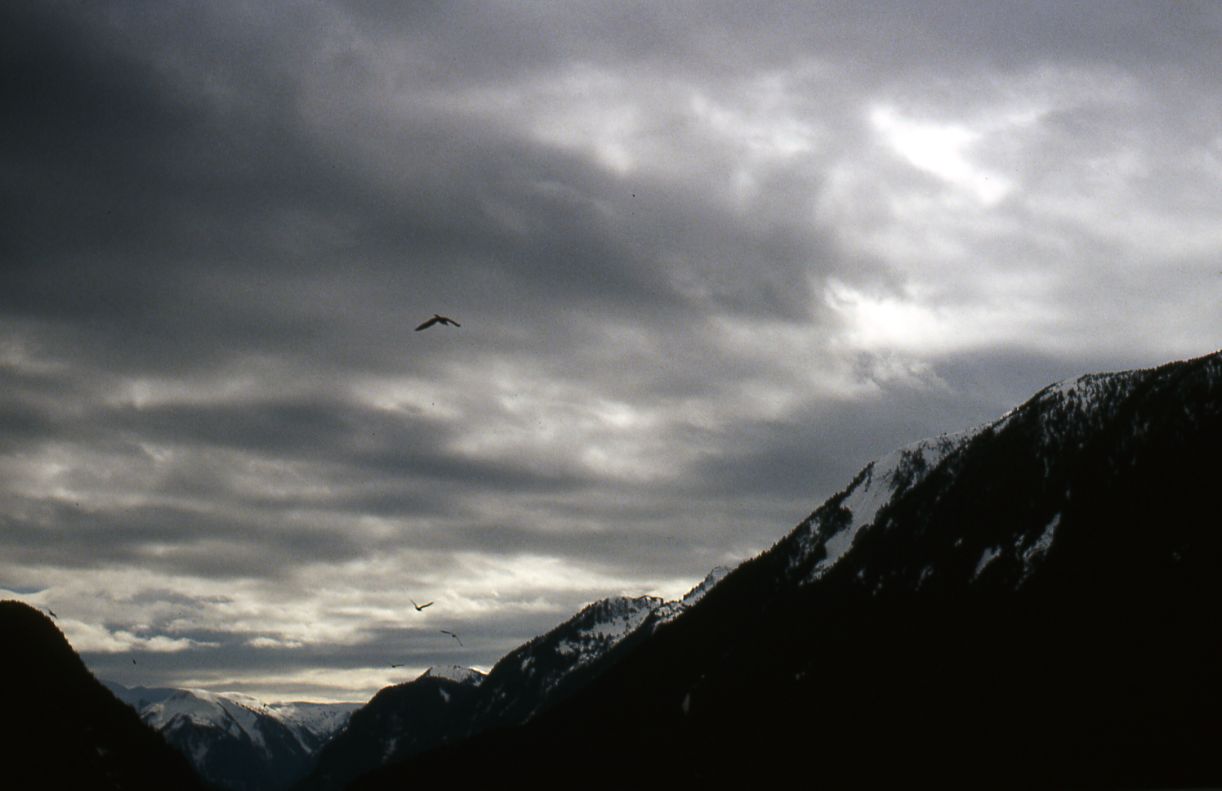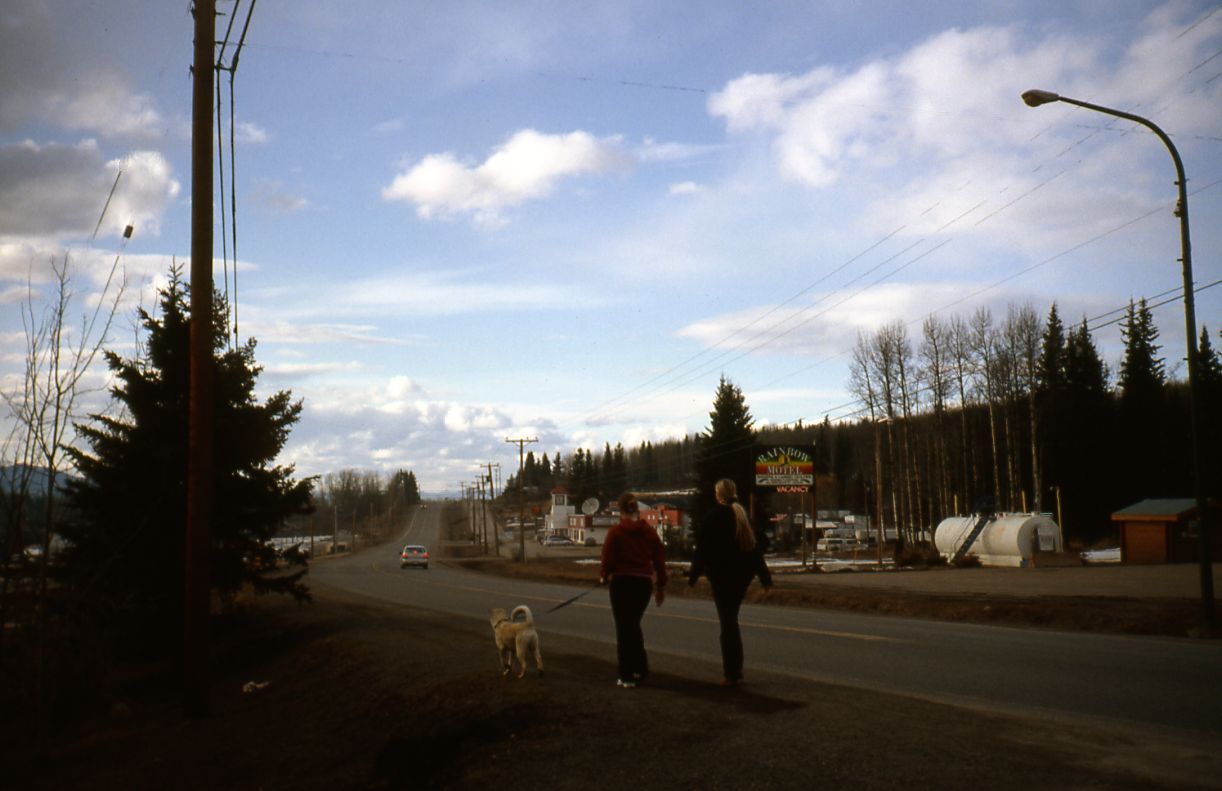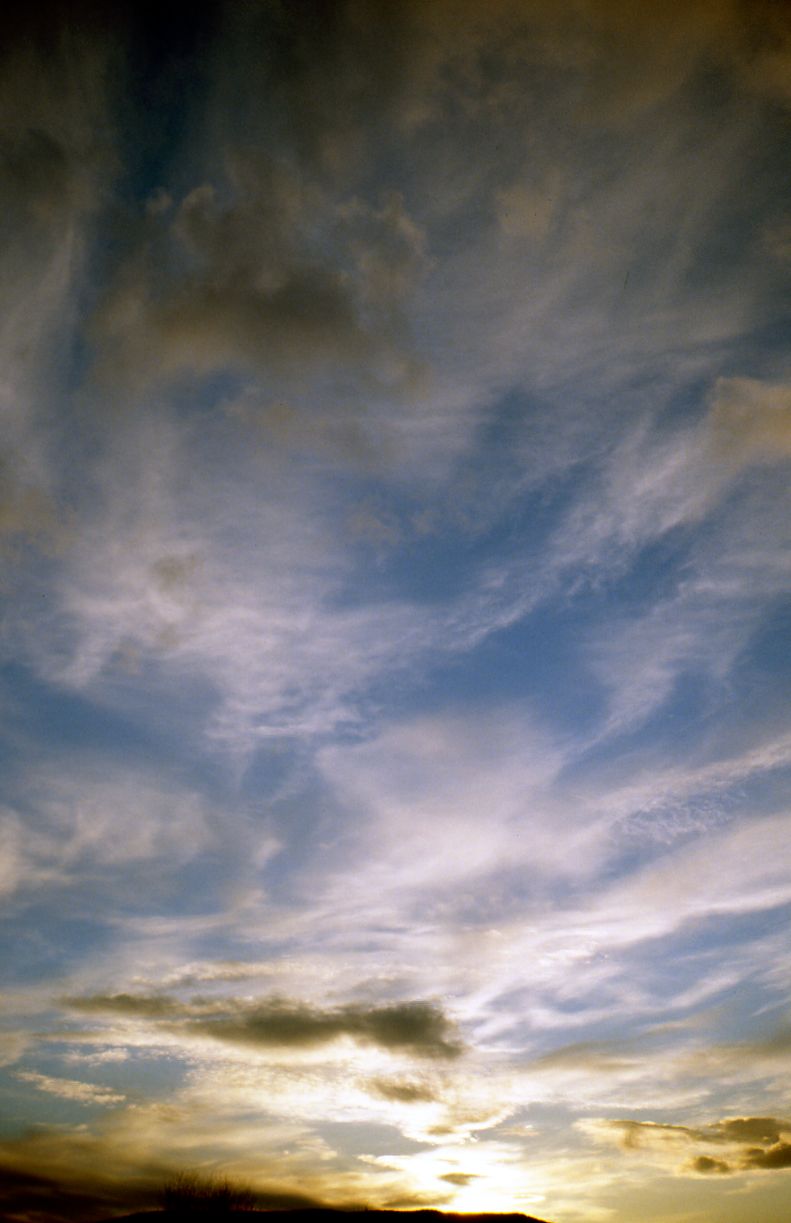 Prince George seemed not interesting without its feature, so I decided to stay only over night for next Greyhound. Calling to an appropriate B&B and asked the rate, he offered fairly high price at first but somewhat suddenly changed to $50 including tax.
In the evening of 24th March, 2004, I got on a cart of the SKEENA train from Barns Lake, which was late for over an hour. The station was nothing but a rail side only with a small sign of Barns Lake. To climb onboard, I used a stairs I remember. The price was far more expensive than Greyhound, so I expected a gorgeous travel with gorgeous dinner.
The diesel train was historically old and the conductor with mustache also looked appeared from old Britain. As a matter of fact, his English sounded so different from ordinary Canadians that I could hardly understand what he was saying. Just over my seat, a group of Caucasian were getting wild, who were the only conspicuous passengers; in other words, there were few passengers on board. I tried to order dinner and found there were no chefs, instead the conductor eating himself's gave me a cook of a kind for an instant dish. Oh, this is the SKEENA; this is the Canada.
Since the restaurant compartment felt like occupied by the conductor and another White female passenger, I got back to my seat. Then I found my seat was taken by one of the Caucasian group chatted loudly. "Excuse me," said me, she moved to another place without apologises. The train went like a tortoise and stopped frequently; as for the landscape, except sometimes white breathes of horses outside stables amused me, only a little difference from the Yellowhead Highway was seen. After night has fallen, I was rather worried if the B&B person would wait for me to pick up at because I had no means to tell him this significant delay.
The train was supposed to arrive at Prince George at 8:10 pm. But actually it went over 10:00 pm. Surprisingly, however, Bernie, the B&B man was still there! Mentioned my concern thanking him, he said such a thing was common in SKEENA and speaking with other people who were also waiting the train had him never bored! I simply couldn't his tolerance.
My room was really gorgeous; it was like the civilised world has suddenly come. The B&B was named "Gallery House B&B," since his profession was to frame pictures with a workshop. He served me a very good breakfast, when I asked what brought him there. He replied that just for jobs as well as many other people did, and that settling here he became fond of it. In his car to the Greyhound station with bad visibility for the thick fog, he explained the fog is common in changing seasons at Prince George because two rivers meet and pour into the Fraser River, which starts here a long long way until Vancouver.