Everyone I met in town recommended me to go to Kicking Horse, but I wasn't interested in commercialised artificial greatness. However, staying in Golden for two days had me nothing to do. In the end, nearly evening, I hired a taxi to get to top of the resort.
Getting off at Day Lodge, a young Caucasian guy was prepared to open the door and ingratiated himself with rich people. Next to next, over-weighted ugly Caucasian gentlemen wearing dinner jackets and dress-upped ladies parked and entered the lodge. Just beside a helicopter tour for them to look across over the resort went and came back extravagantly. What is the pleasure wearing a tuxedo in such a wild mountain, it looks rather funny, I thought.
Calling on the front desk, however, the young lady was very helpful. "Excuse me, I have no tickets for the gondola but I want to take pictures of this resort from the top of the mountain, please." Among of all things, she gave me a free-pass to Eagle's Eye Restaurant, which is at 7,700 m altitude. The gondolas were almost vacant even though they were moving restlessly. As it went up, the atmosphere was second by second changing as if the air was alive. I thought this is the mountain and we, humans, aren't able to disobey this natural power.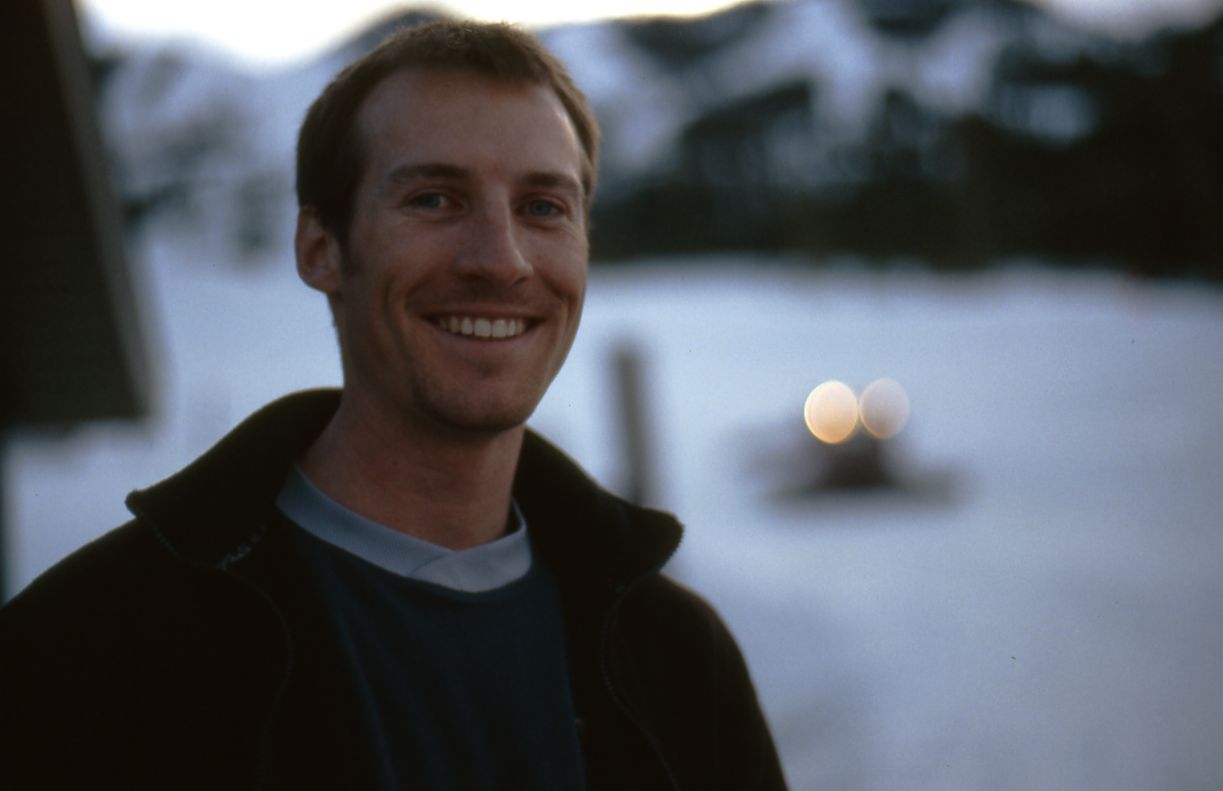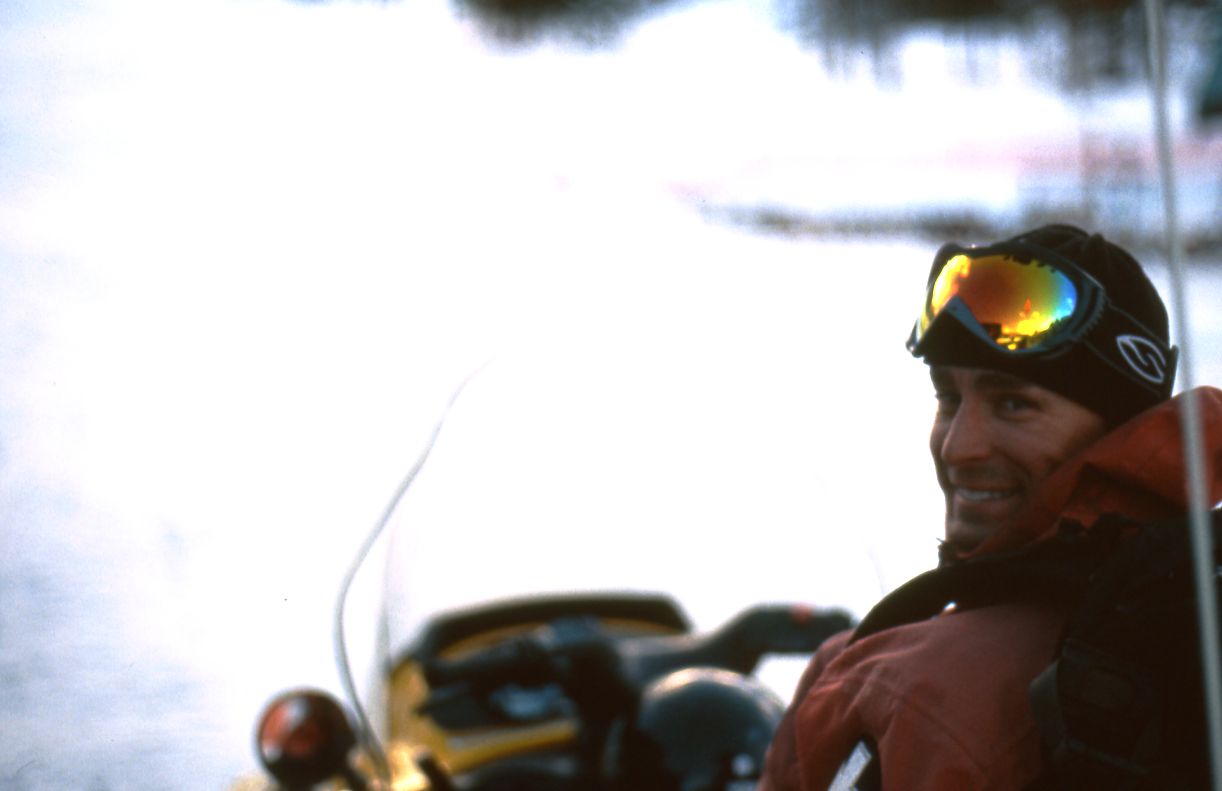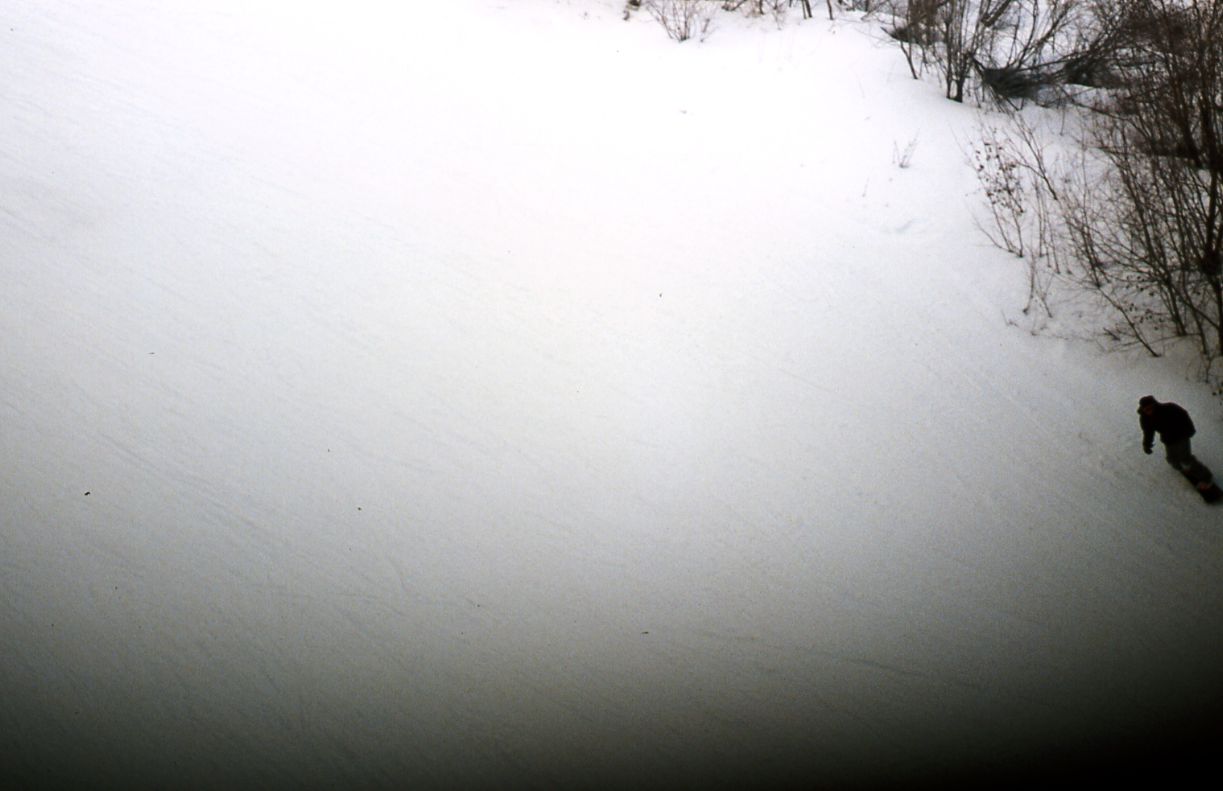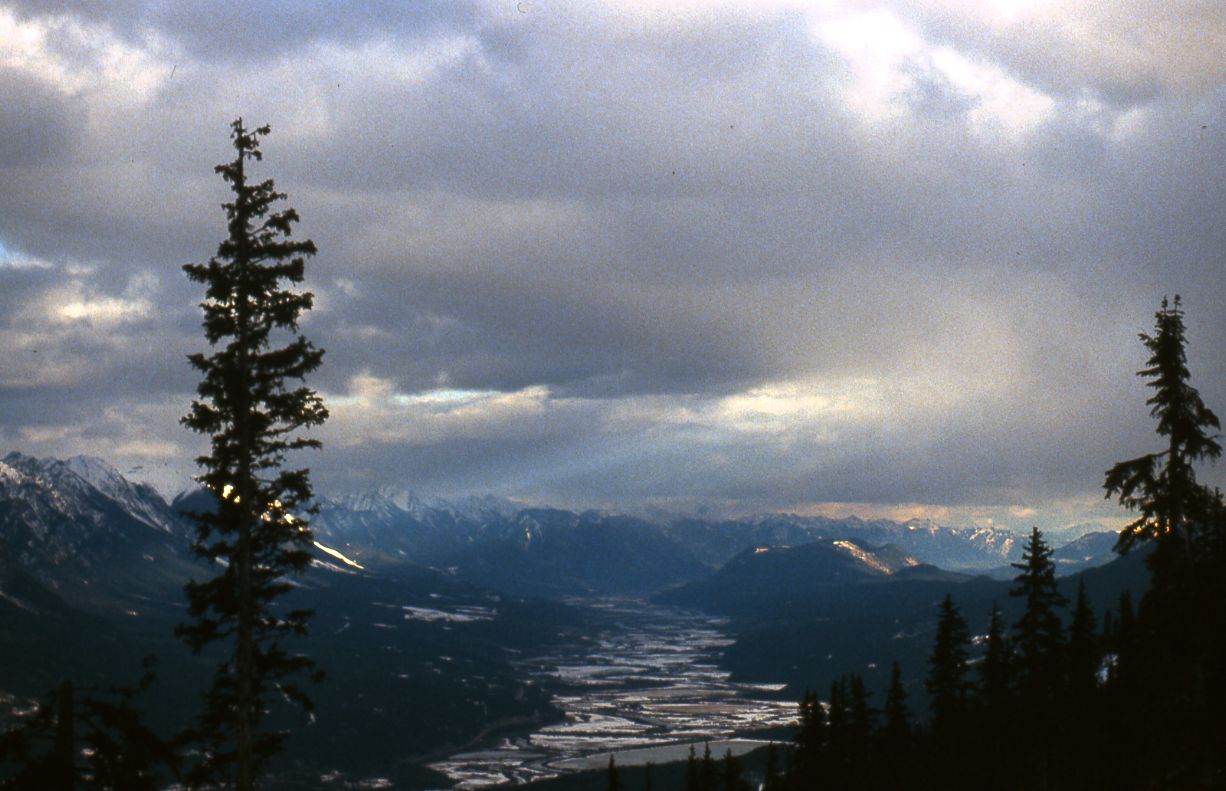 Approached Kamloops downing south, the woods suddenly changed shrubs in landscape from a Greyhound and the scenery was completely covered with dried rough skins of naked hills. At first I thought they cut all of the cedar trees for timber, but later it appeared due to the climate and soil, especially extremely hot weather in summer that is common in valley, this area didn't produce any trees in nature.
The bus departed Prince George at 8:45 am and arrived at Kamloops around 5:00 pm, and I took a taxi to a hostel at the heart of Kamloops. The driver was from the Middle East. I thought the climate similar to their home might attract them. The car he used was better than the one in Prince Rupert, still I felt something primitive with its ride. Kamloops seemed a bit like Downtown Vancouver with a lot of down-to-earth restaurants and pubs, but a spaghetti I ate at a middle class restaurant tasted awful with rough service.
As a matter of fact, I had no idea in deciding where to go in this journey. However, the Tourism British Columbia was extremely well organised with decent booklets and information centres even in tiny villages, I was like playing in their hands. Actually, nothing felt wild having certain patterns such as whale watching in coast area for instance. I was thinking such a man-made tours produce nothing impressive because a journey should be unexpected experience, not by artificial arrangements. Furthermore, you know, here is Canada. Anyway, as such way, I made up my mind my next destination to Golden for observing the life near Rocky Mountains.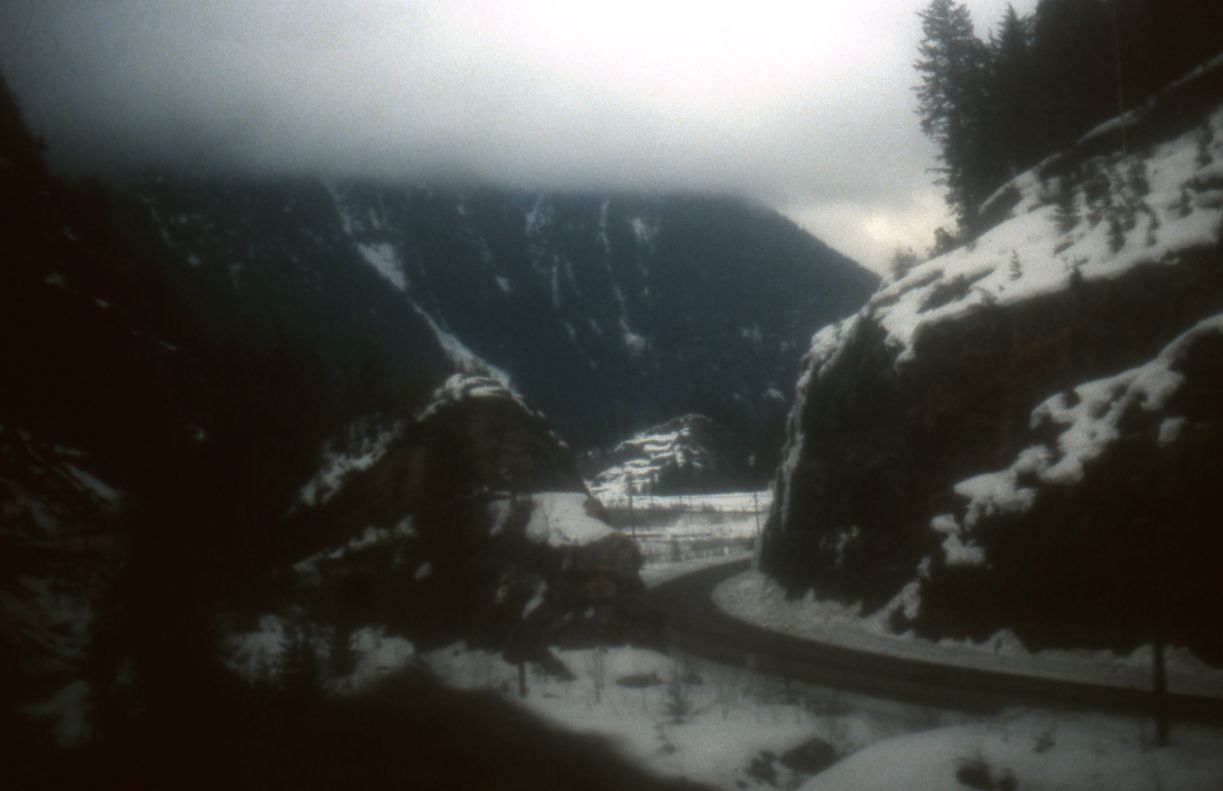 There was a hostel where I waited for the arrival of the owner, though he seemed never to appear. Meanwhile, a group of drunk young people returned. One boy of them said came to Kicking Horse for snowboarding from Calgary over Rocky. He was a student of a graphic design institute and showed me his excellent design and photos taken with a digital camera. The photos were quite different from the ones taken with analog cameras; watching at the LCD of his Powerbook I thought I can't take this kinds of pictures. He is definitely to be called a digital age; shown my CONTAX T2 he said, "OOld!" As I realised his English was a little different and easy to understand for me, he said his parents were from Germany and he was brought up in Britain.
Without the permission of the owner, I got into one of the beds. However, next to next the VIA train passed by just next place to our hostel and with horrible big vibration like earthquakes I couldn't get a wink of sleep until dawn, while young guys seemed to sleep well. Pounding on the door to upstairs, a man stripped to the waist was getting up scrubbing his eyes. When I said I want to leave instantly because I couldn't put up with the trains, the boy said I was OK with sad look on his face to me. "The last night was out-of-ordinary," the man excused.
Anyway, I had to search for alternative accommodation since the departure was the day after. With my heavy baggage I crossed the railway to the town. A Caucasian lady was sweeping in front of a pub, and I asked, "Excuse me, do you have any accommodation facilities?" She replied yes, but it seemed like full for a band who stayed and played at the pub. The rate was quite understandable, so I asked the lady to confirm if really there was no vacancy. I imagined vaguely the band would be better than the earthquakes.
Until she got an answer from another, I strolled around the small town. When I ordered a cup of coffee at a cafe, a White guy spoke to me, "Are you Japanese?" Despite I was before him in the line, the waitress somewhat served him first.
He, Stanley Tim, used to work in Japan for his business, a house builder, and wanted to do the business again; according to him, he was declined by his client because his double business for another's was to be known. In Canada he had an office in Vancouver, though recently moved to Golden because he got another business and bored with urban life.
He was constructing lodges in one of the blocks of Kicking Horse Resort. The ski resort was in a midst of boom; since Banff nearby has been prohibited any developments including using such as snowmobiles for it is a national park, world's funds, especially Swiss's according to Stanley, rushed to invest to Kicking Resort. As they ignored the community life of downtown Golden to pursue their own rights, a conflict between the rich up in the resort and the residents in town occurred. I heard that story was to a film and got a prize in Canada.
He was funny in that criticising the rich he is on the other hand helping them with their business. Inviting me to see his construction site, he also cheered that melting snow in the rivers must attract a lot of fishermen to start the season; however, I never found figures of fishermen during a long walk along the rivers.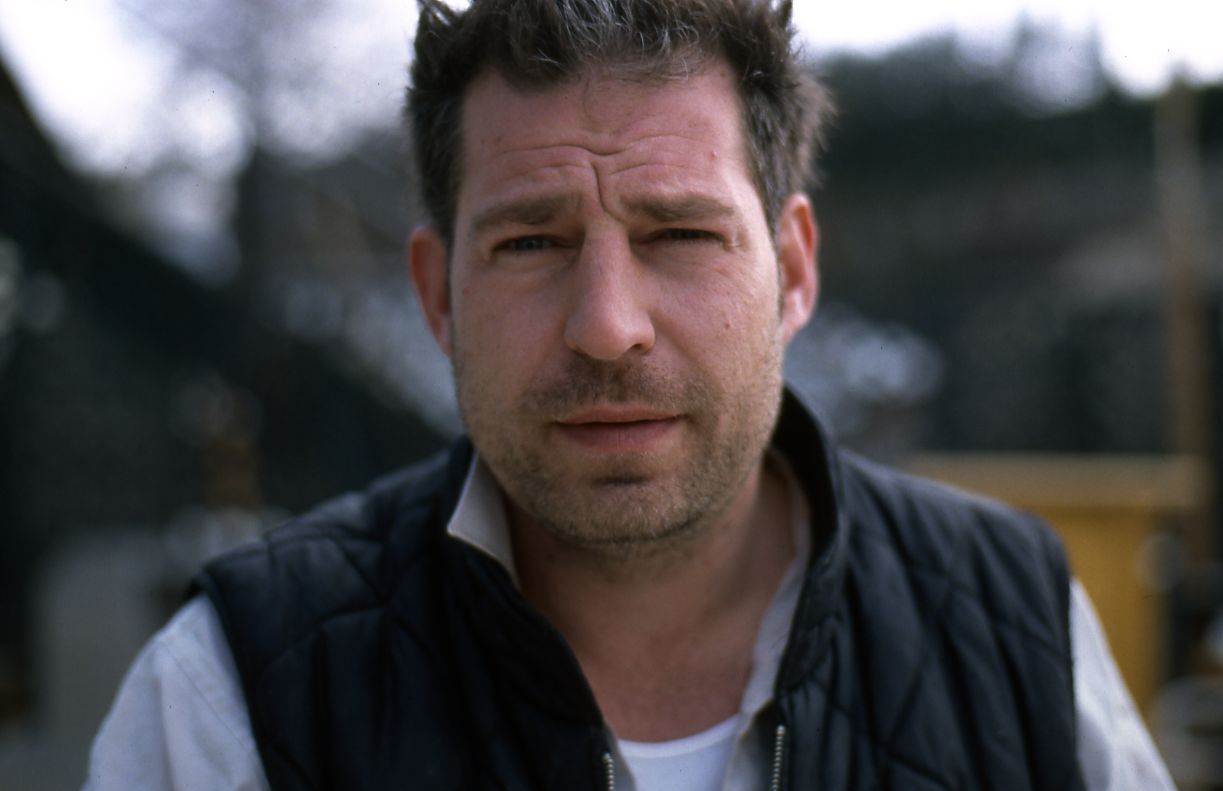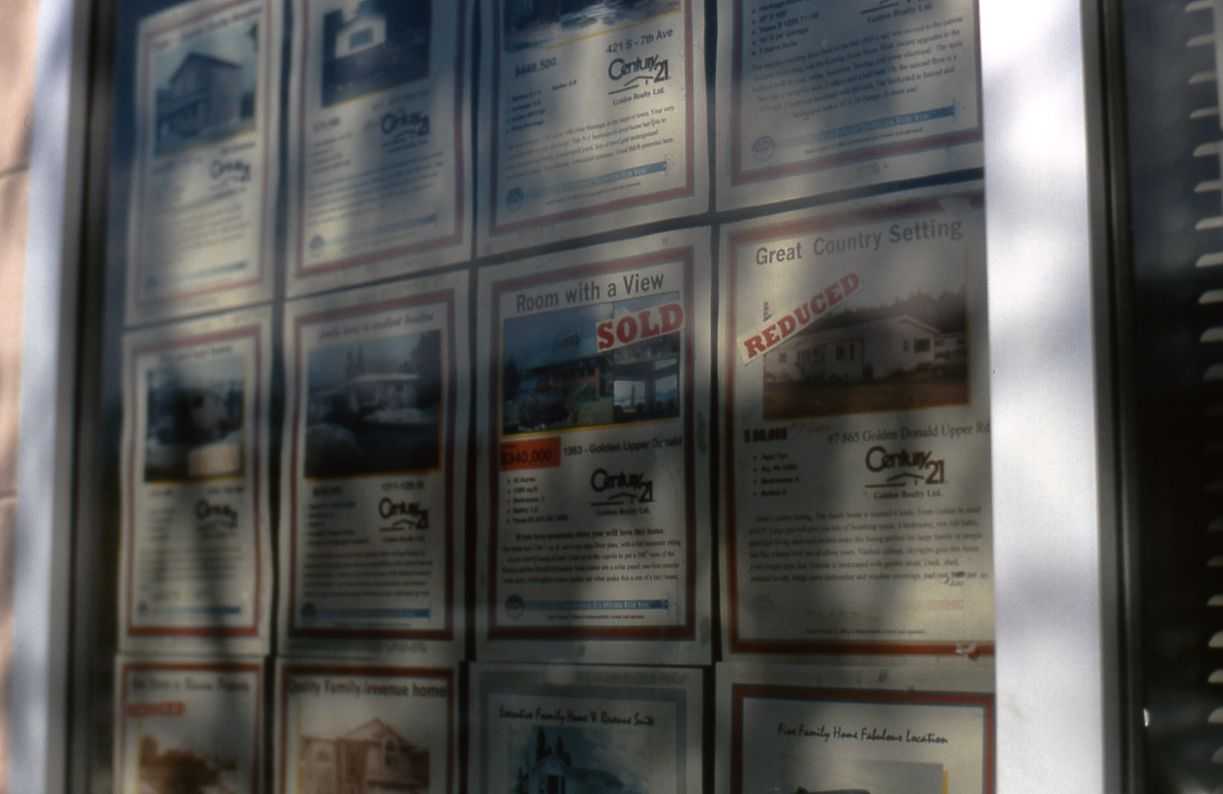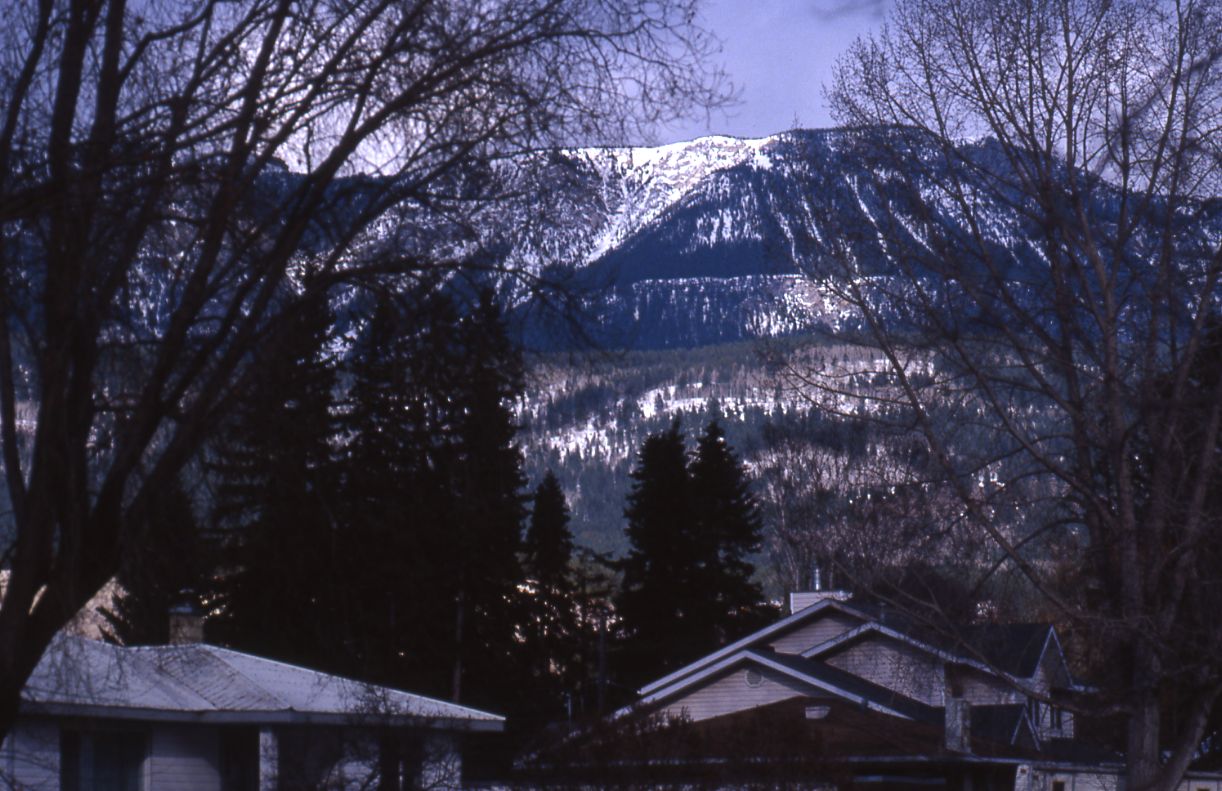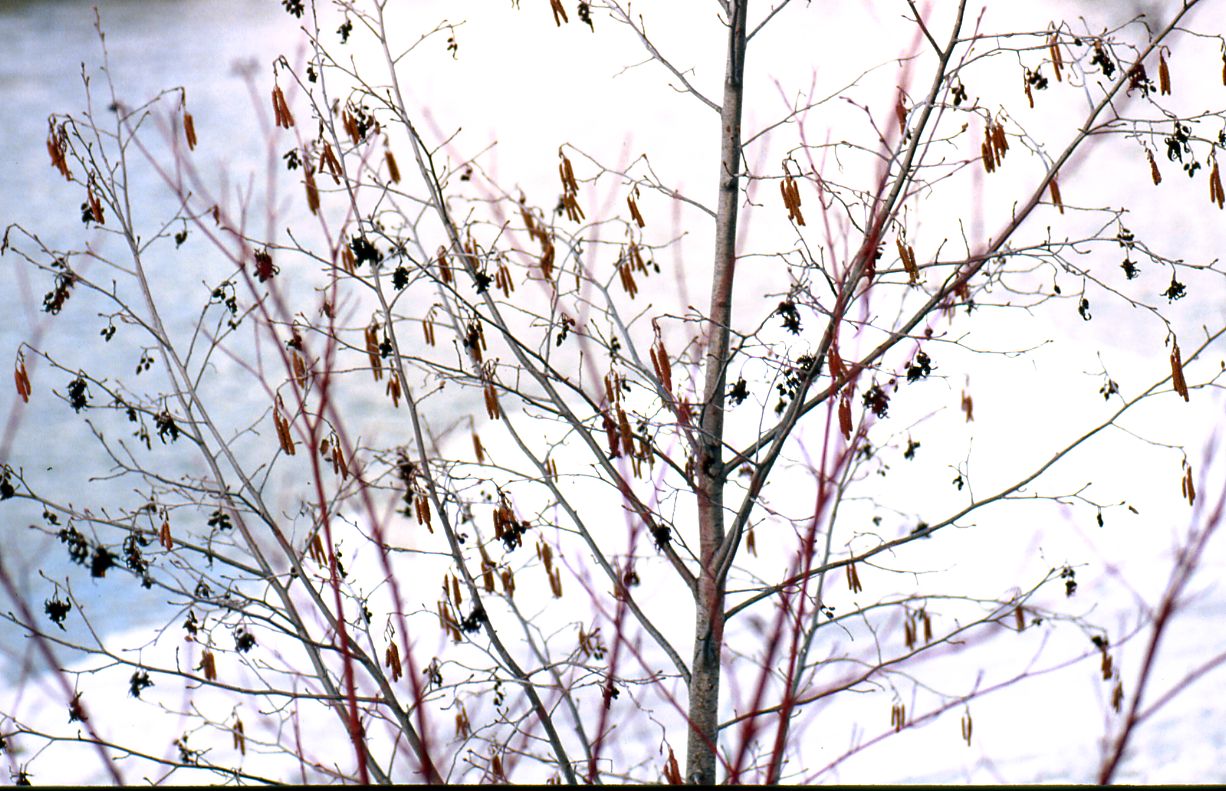 I visited the visitor information centre like in many other places. I asked, "What is the tiny light to be seen in the mountainside I saw last night?" "It maybe skiers with lights. Was it moving down?" "No, it was still." "Then, maybe the restaurant of Kicking Resort; it is the highest restaurant in Canada." "Do you mean it's the most expensive or the highest located?" "Both!"
When I ate lunch at the only Chinese restaurant, known I am Japanese the Chinese owner and chef interestingly accosted me. "How was the dishes?" "Very good!" Actually, it was an authentic Chinese fried rice unlike the one I ate at Barns Lake. Even though his and his wife's English was not so great, with their good dishes as well as good characters with warm smiles many Caucasian residents were gathering there and greeting with them. I thought this is a good town. The downtown residential area seemed also developing with new immigrants like those from India.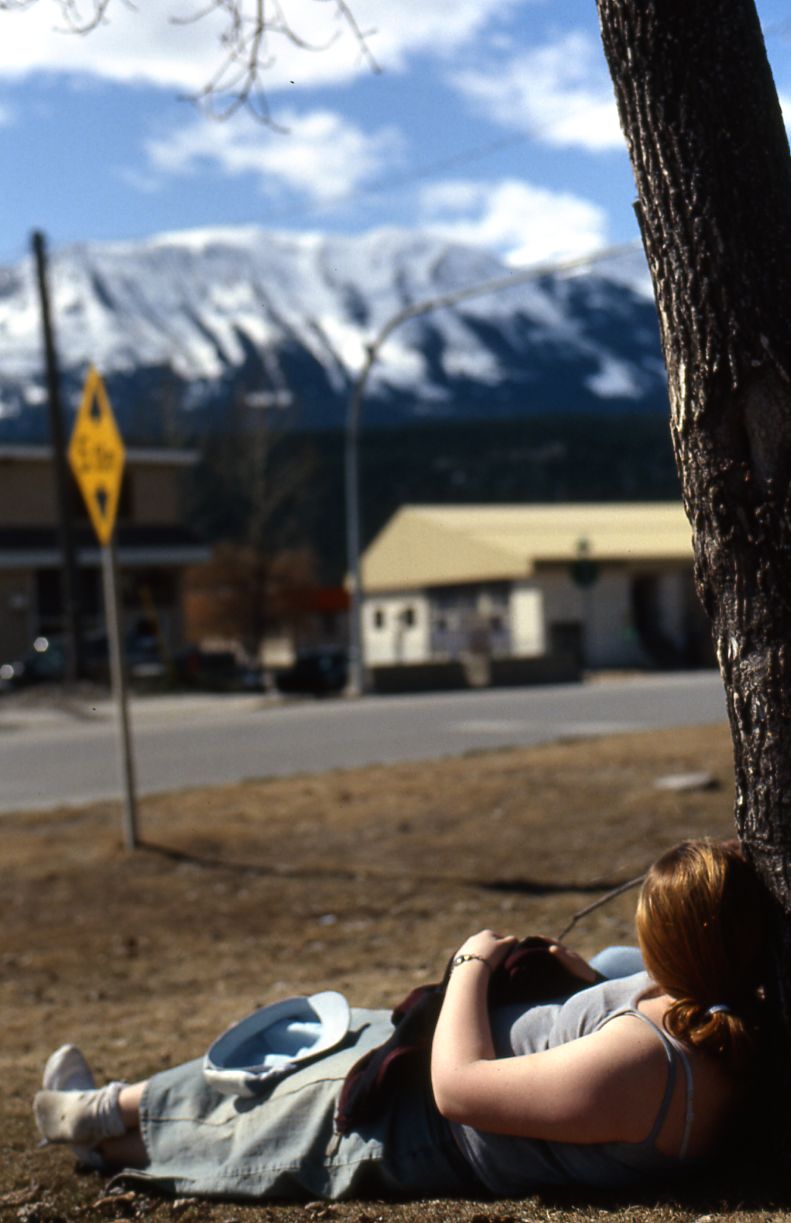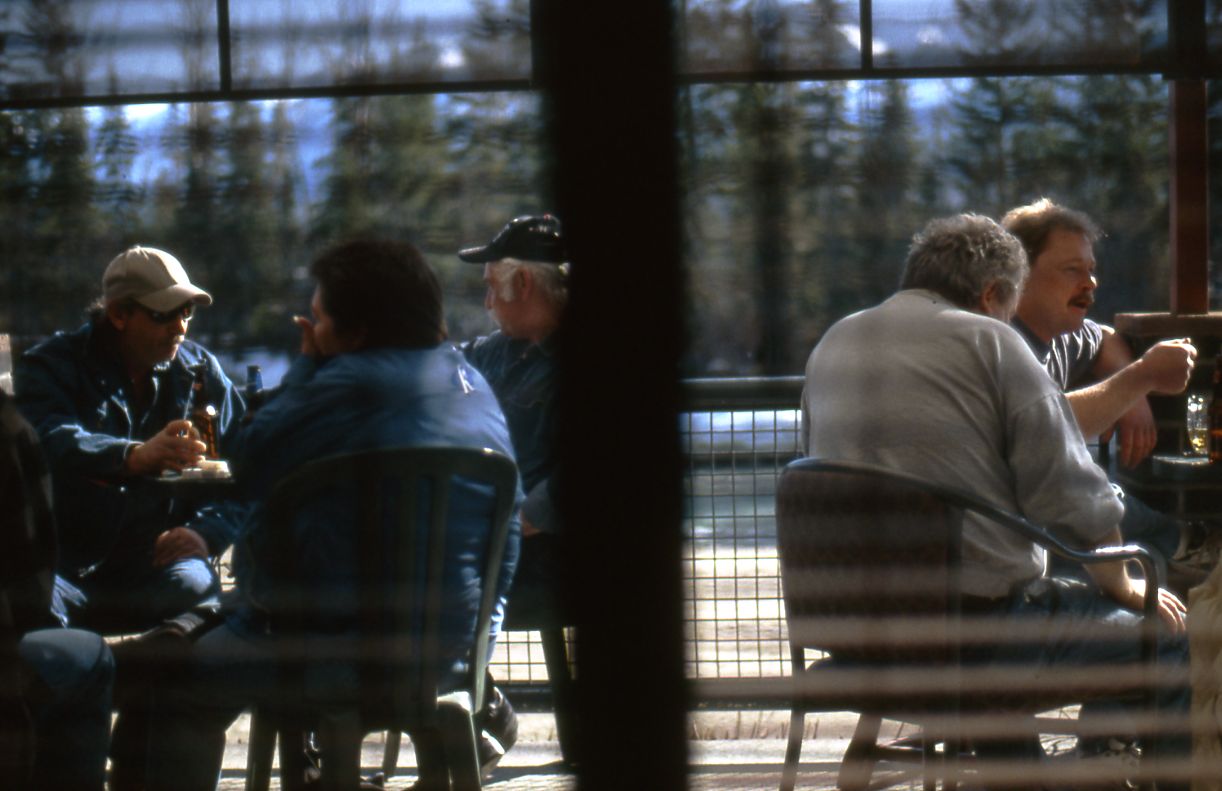 The bus started in the morning took rest breaks several times. As I was smoking at an ashtray outside, an old woman who was also smoking accosted me. "I'm from Nova Scotia and on the way home now. I visited my son who established and run the news paper of Prince Rupert." All of her children, she said, became independent already moving about all over Canada and such stories are pretty common among Canadians. Among of all things, according to her, the popular way to move to West like BC was to start ranches.
When I put off my tobacco into the ashtray to get back on the bus, the woman followed but threw it away. I didn't think a great mother would do such things. Later, as she knew I was taking pictures, whenever she found the remaining snow she pointed at it in front of my seat. All of them were not worth pictures, though.
Barns Lake was already in the evening when the bus arrived. Asked how to get to the Takysie Lake at the small bus-depo, he said it would take over an hour taxi ride. Over an hour from Yellowhead Highway? They say "Just Off Yellowhead Highway" on the ad, he confirmed if the motel could come receive me on phone but not. Then he also called a taxi company to ask the fee to Takysie Lake and it appeared well over double the accommodation rate. Finally, I asked to him whether there are any cheap motels near there. After telling me a few places, he casted the Greyhound slogan, "Take it easy," on my shoulder.
What a hell, I remembered a cold look at casted by the old lady when I got off the bus alone. Explained that how I came to the motel and that wanted a cheapest room to the motel lady, she really sympathised me. However, when it came to the rate she costed me a bit higher price than shown in a brochure, even though no other guests were there for the off-season.
I asked for fishing information because around Barns Lake has a lot of lakes. She called to another person, though it was too early to fish with thin ice on the surface of every lake. Then, I asked if I can take pictures of working people there. Some logger might be, she said, but eventually appeared no one was working that time!
"Okay", she said and her English was very clear to understand -she and her husband came from Germany-, "if you want to capture Barns Lake, you can observe two Indian bands. One is upwards and affluent with a lot of woods to log; the other is downwards by the lake and very poor without good rights. You can see the contrast between them." "But," I said, "it's maybe difficult to take pictures."
First, I called the hillside to hilltop band. On the way, asking my way to a grandma with kids I also saw middle to old aged men slowly stepped forward and rested sitting on a public building gazing at air without doing anything. Passed by an elementary school, I found a neatly lined houses along the road, some of whose widow showed the Maple Leaf flag of Canada. Other than a few kids running out and in a house like the Queen Charlotte kids, no one appeared. The neat houses, however, displayed messy around them scattered tools or what not unlike White people's houses'.
And then, next, I went to the poor band, where stood shark-like houses bit by bit in a wild. However, young guys out of them passed with me each other greeted smile greetings. Some guys were flocking together to cut timber just playing with each other. I was told that this district was poor, though it looked happier than the band on the hill. Passing over the poor band to a small park on the bank, a White girl amused herself on a swing. I accosted her but she never replied. The lake was surely still frozen and it was too early to fish, which only me might have not known.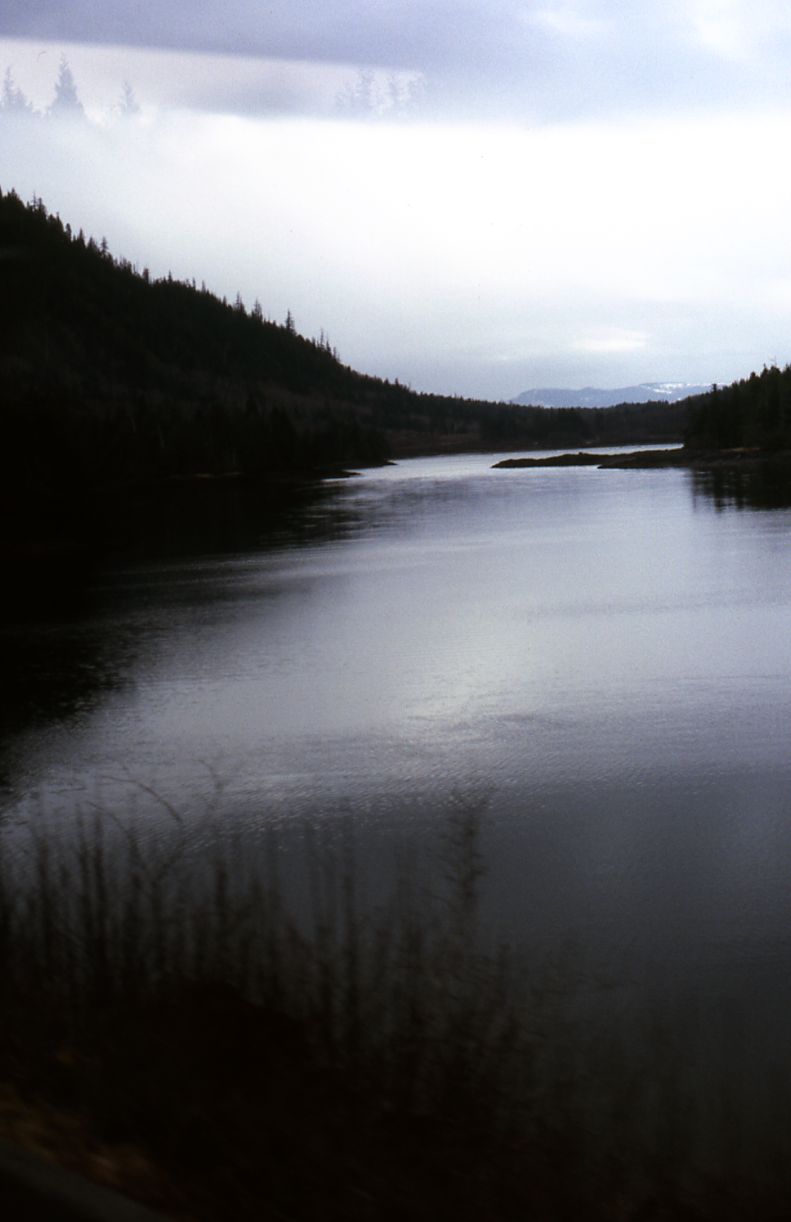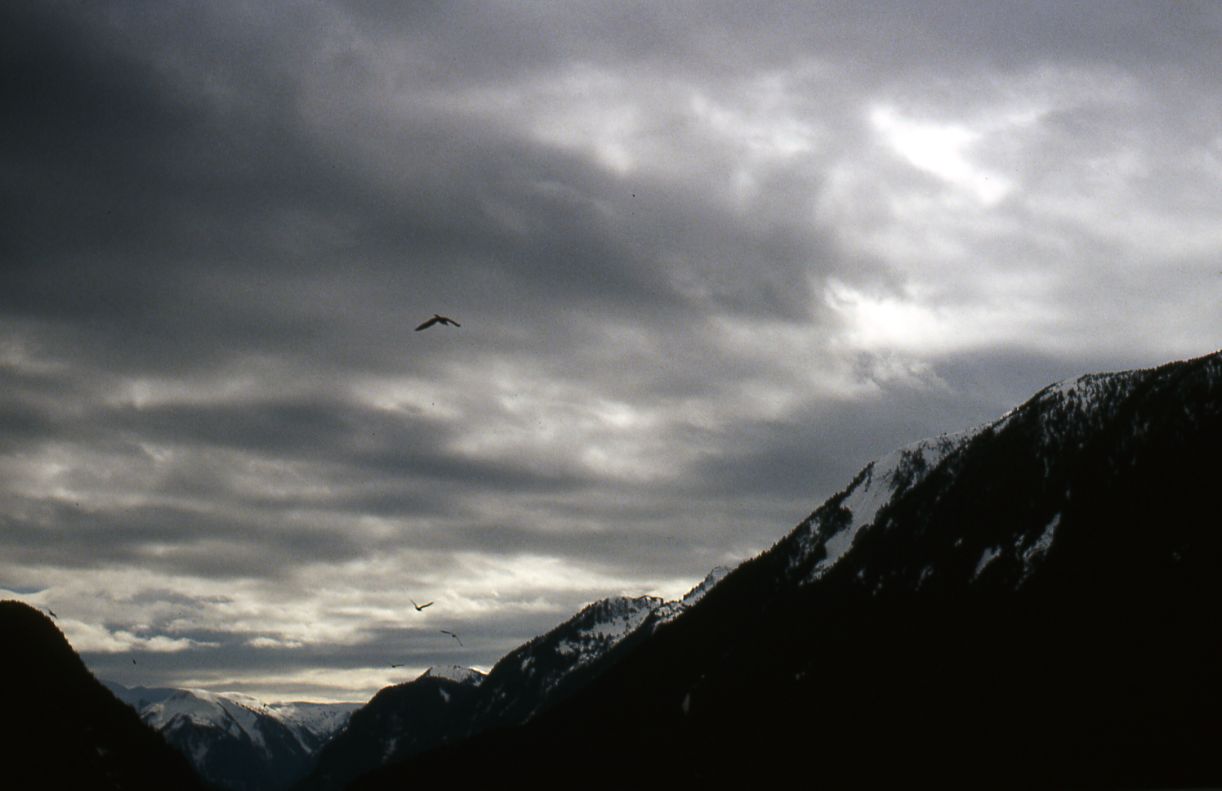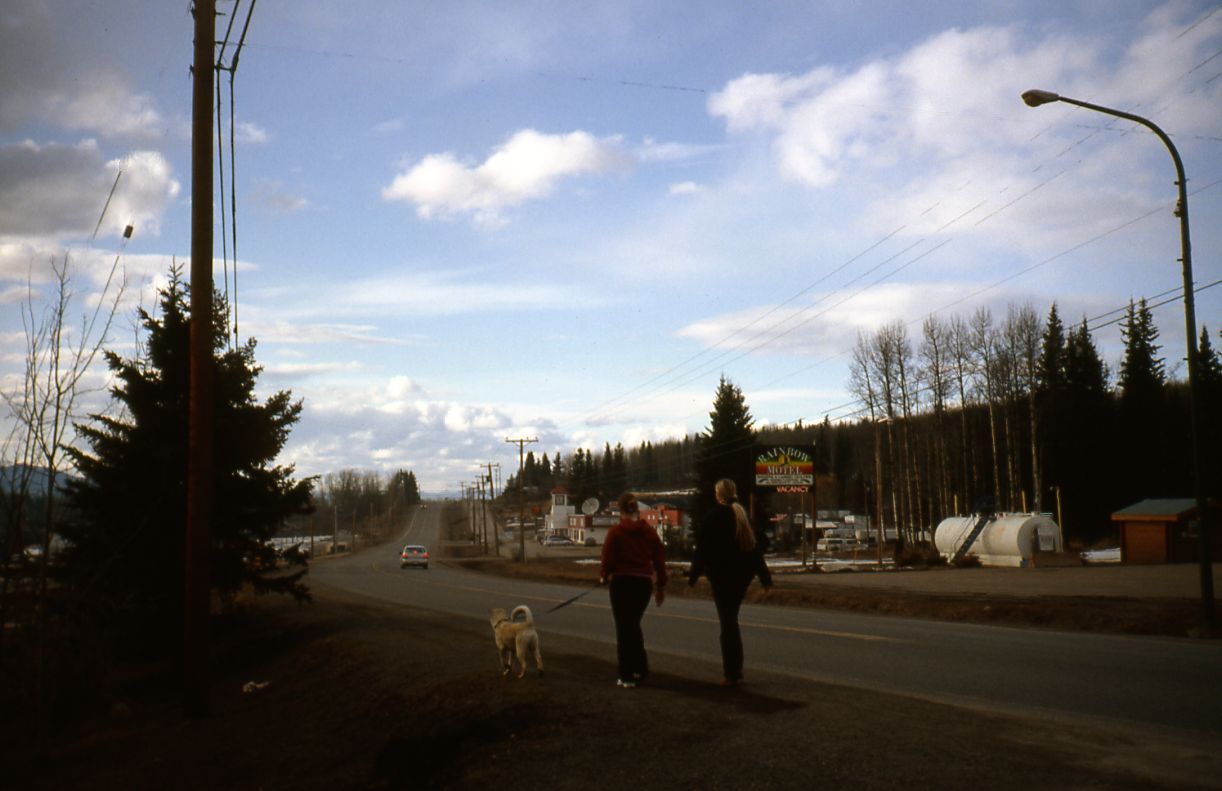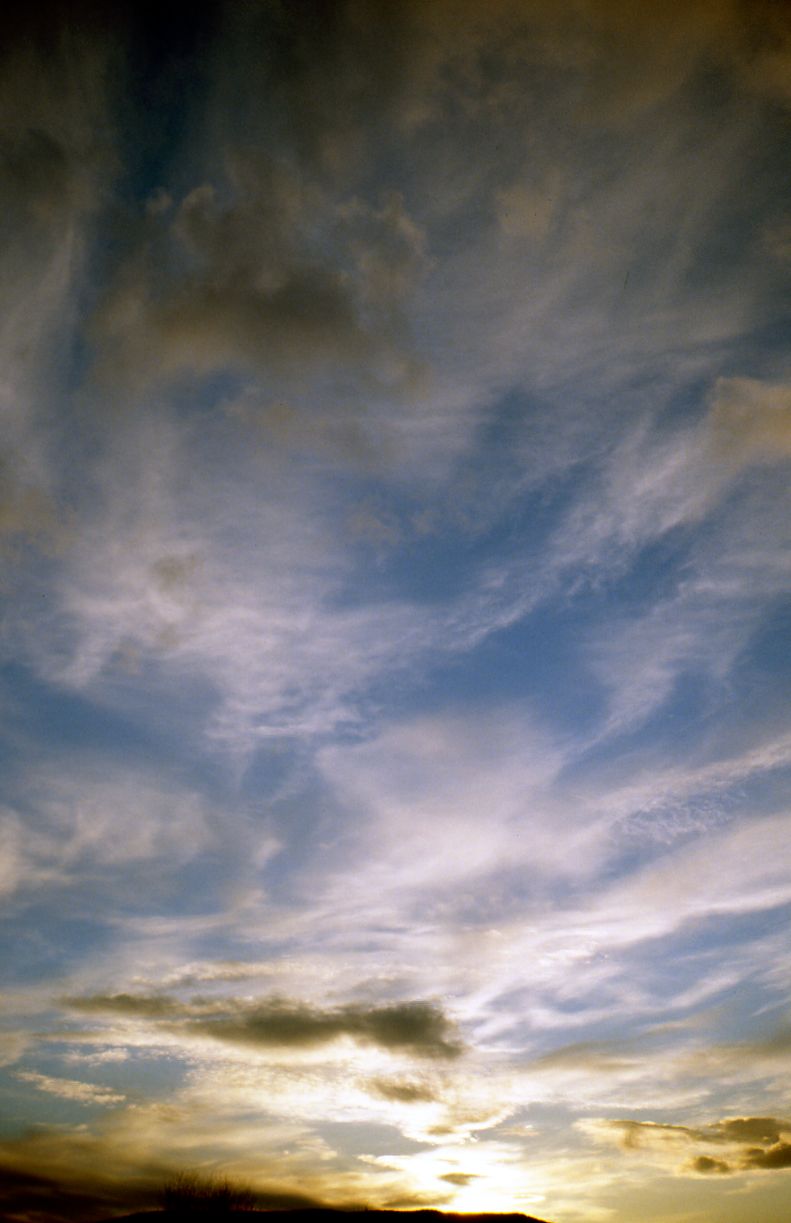 Prince George seemed not interesting without its feature, so I decided to stay only over night for next Greyhound. Calling to an appropriate B&B and asked the rate, he offered fairly high price at first but somewhat suddenly changed to $50 including tax.
In the evening of 24th March, 2004, I got on a cart of the SKEENA train from Barns Lake, which was late for over an hour. The station was nothing but a rail side only with a small sign of Barns Lake. To climb onboard, I used a stairs I remember. The price was far more expensive than Greyhound, so I expected a gorgeous travel with gorgeous dinner.
The diesel train was historically old and the conductor with mustache also looked appeared from old Britain. As a matter of fact, his English sounded so different from ordinary Canadians that I could hardly understand what he was saying. Just over my seat, a group of Caucasian were getting wild, who were the only conspicuous passengers; in other words, there were few passengers on board. I tried to order dinner and found there were no chefs, instead the conductor eating himself's gave me a cook of a kind for an instant dish. Oh, this is the SKEENA; this is the Canada.
Since the restaurant compartment felt like occupied by the conductor and another White female passenger, I got back to my seat. Then I found my seat was taken by one of the Caucasian group chatted loudly. "Excuse me," said me, she moved to another place without apologises. The train went like a tortoise and stopped frequently; as for the landscape, except sometimes white breathes of horses outside stables amused me, only a little difference from the Yellowhead Highway was seen. After night has fallen, I was rather worried if the B&B person would wait for me to pick up at because I had no means to tell him this significant delay.
The train was supposed to arrive at Prince George at 8:10 pm. But actually it went over 10:00 pm. Surprisingly, however, Bernie, the B&B man was still there! Mentioned my concern thanking him, he said such a thing was common in SKEENA and speaking with other people who were also waiting the train had him never bored! I simply couldn't his tolerance.
My room was really gorgeous; it was like the civilised world has suddenly come. The B&B was named "Gallery House B&B," since his profession was to frame pictures with a workshop. He served me a very good breakfast, when I asked what brought him there. He replied that just for jobs as well as many other people did, and that settling here he became fond of it. In his car to the Greyhound station with bad visibility for the thick fog, he explained the fog is common in changing seasons at Prince George because two rivers meet and pour into the Fraser River, which starts here a long long way until Vancouver.
I expected there should be a taxi stand so walked forward to another building pulling my heavy luggage. However, it was a government office with no pay-phones and somewhat closed. Other than a few people carrying stuff on a pier ignoring me, no one was to be seen around there. I had no choice except returning to the ferry office. And then, the office person called me a cab.
A huge old American sedan came to me. The not sophisticated ride with smell and vibration of the vintage class made me feel like in old America. The driver's English was not so great and he didn't know cheap accommodations in town, though anyway he brought me to the hotel district of the central block. I wanted a cheapest hotel but it costed over $70 including taxes.
In that hotel, once again those Indian kids with some parents met me. With their room-doors opened, their energy with loud voices seemed never to go down. Bullshit, give me a break, I won't sleep again?
Smoking outside, one of the parents finally spoke to me, "Where are you from? You were taking pictures on board, weren't you?" And then he said, "We have a problem with our ferry to Queen Charlotte, so until departure we have to stay here."
"Wait a moment," he said, "I know Japanese people eat just the same thing as ours." What he brought from his room to outside was the Japanese saying "Shishamo" but smoked. The small and thin fish is very popular, especially the ones with eggs, among Japanese to eat with rice baking. Getting a bite of it tasted the same taste of sweet and bitter that I used to eat in Japan.
This experience alleviated my prejudice to them and I began to feel their basis might be the same as mine. Asking the hotel lady for which part of the island they came from, she said they from the northern most part, Massert. Confirming it on a map, across a sea was Alaska.
The town of Prince Rupert was like Wild West but concreted; everything looked like primitive with a lot of aboriginal people. On the other had, however, I could purchase foods and what not in new shopping malls with chain stores which are the same as Richmond's. When I rested sitting on an edge stone of pedestrian, some boys approached and asked for money for them to buy something. I replied, "I'm not enough rich to give you." They seemed to look for another person, though I dropped by a liqueur shop near there by the hotel. The Indian girls of the shop scared looking at them out of the windows and called the police. Such a group of bad boys might have been in the old days' Japan.
Somehow I wanted to reach Yukon territory over BC border, so I attempted to rent a car at Prince Rupert but not only they declined me to leave it at different town but there were no cars available actually. Luckily the hotel was by Greyhound station. I planned to use Greyhound until Burns Lake and then the Skeena (VIA Rail Canada) to Prince Geroge, since I found a Takysie Lake motel's ad for fishing in a thick travel guide of Northern British Columbia. It says "Just Off Yellowhead Highway" on which Greyhound goes and the address was Barns Lake. I took reservations on phone.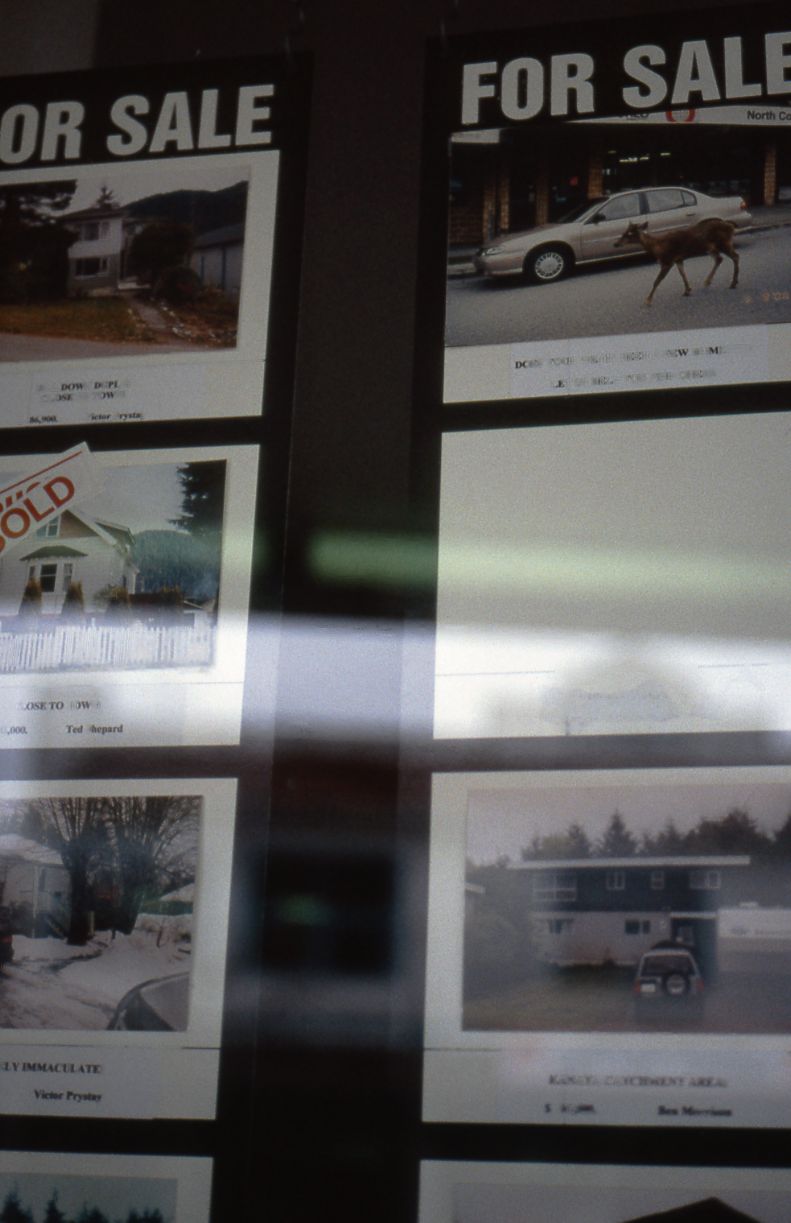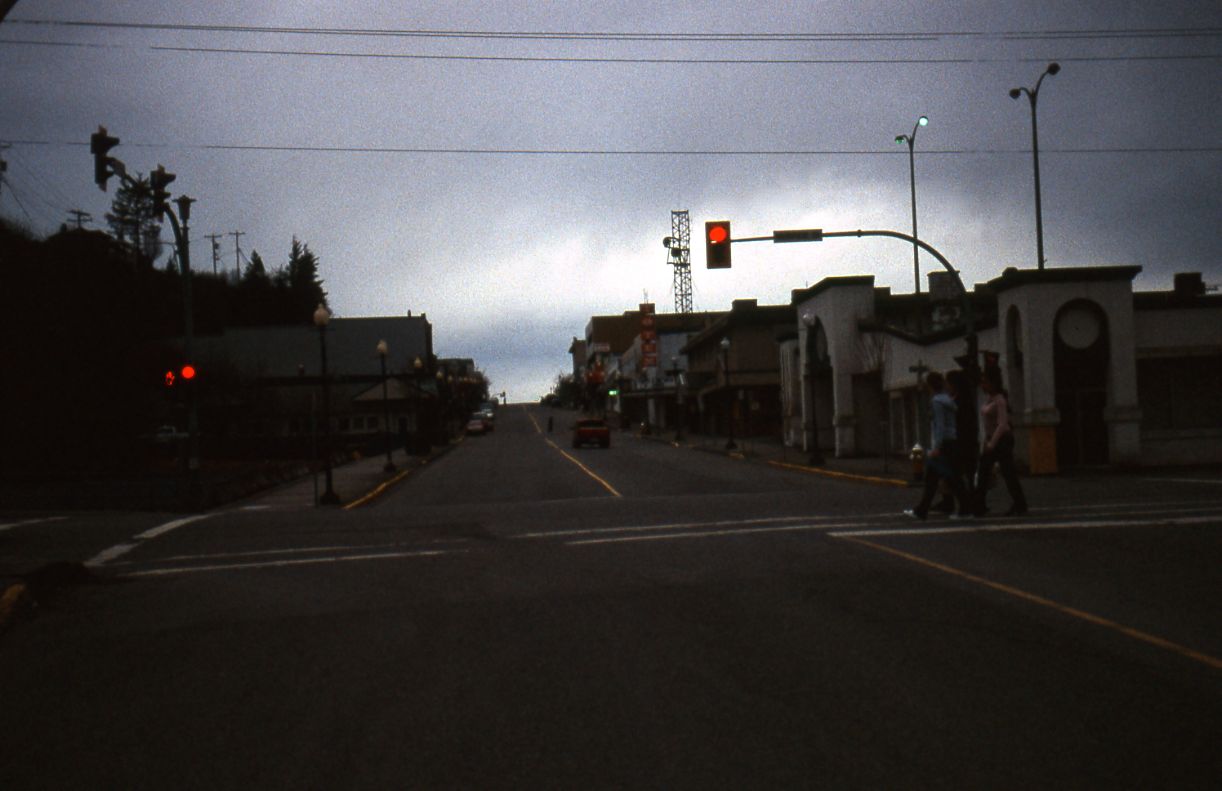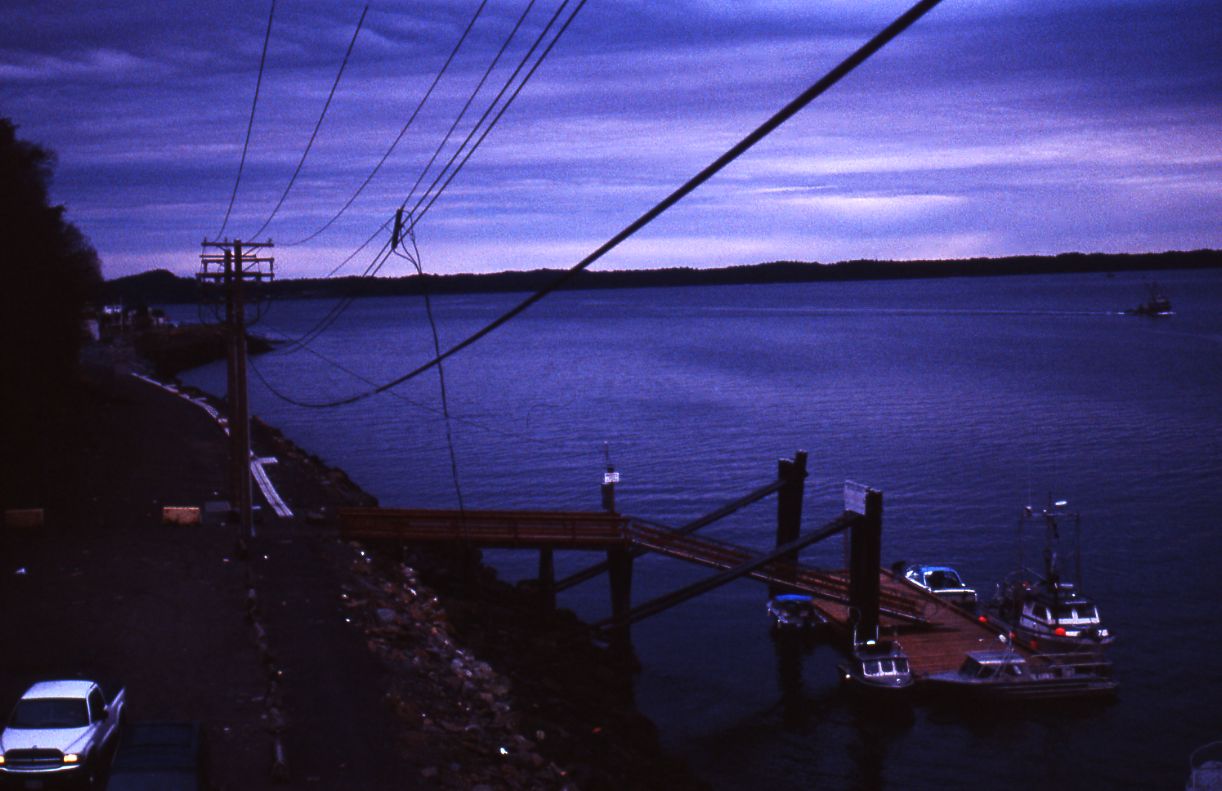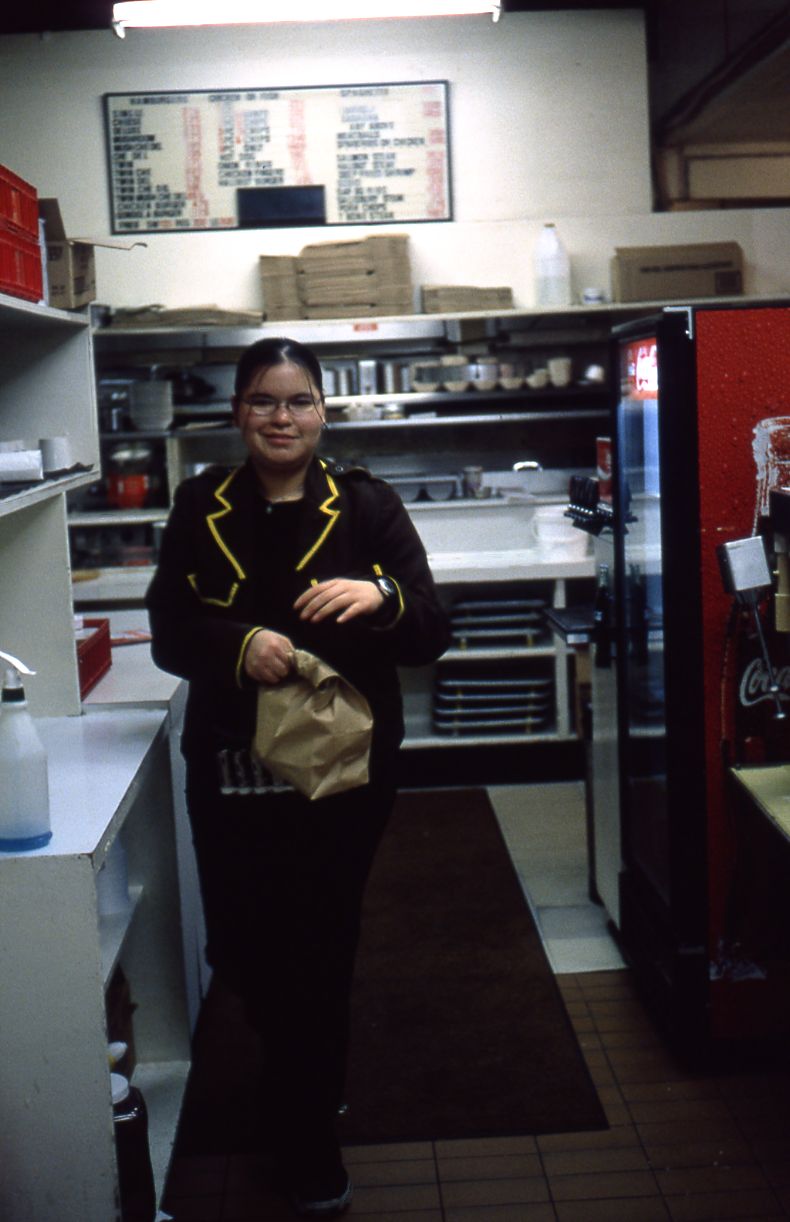 I can work it out, thinking so I went out to the deck, when a White guy accosted me. He was on the way home in Prince Rupert, the destination of the ferry. He said he moved to Prince Rupert when child and then engaged in wiring work speaking to me of his awful work experience in snowing mountains; nevertheless, he loved his home because Prince Rupert has great mountains for skiing that he loves. Aware for us of being the same generation talking about our favourite classic pop groups, he picked a CD out of his portable player and gave to me. That was a Rolling Stones' one which I had never listened to. "Never mind, I can copy it whenever renting from a shop," he said. Well, Prince Rupert seemed more civilised than I expected.
He was very talkative. This ferry was imported from Baltic Sea, he said. As departed from Port Hardy one hour later or so than the expected time, many people got out on the deck and saw a long distance mountain coast which were pink-coloured reflecting the sunset on the Pacific side. "We are so lucky being able to such a sunset," talked with Mic (I called the Prince Rupert guy so because he was like Mic Jaguar), "since until now it has been cloudy." Indeed, it might be once a life time scene.
He said there held an event of basketball games for school children on Vancouver Island and a lot of boys and girls along with some parents on board were on the way home. That quite made a sense why this ferry was so crowded. But I couldn't help hate the Indian children behaving arrogantly since I first met at the waiting room, and seeing their rudeness without courtesy made me about to lose my interest towards Indians. In fact, they were rather like animals.
I picked out a small plastic bottle of whisky which tasted however awful. Then, Mic agreed with my opinion pointing out the plastic and recommended me an Albert Rye Whisky he had. I see, there are bad Canadians and good ones, I recognised. Getting colder outside with darkness, we returned into the cabin where we had to seek for our seats to sleep.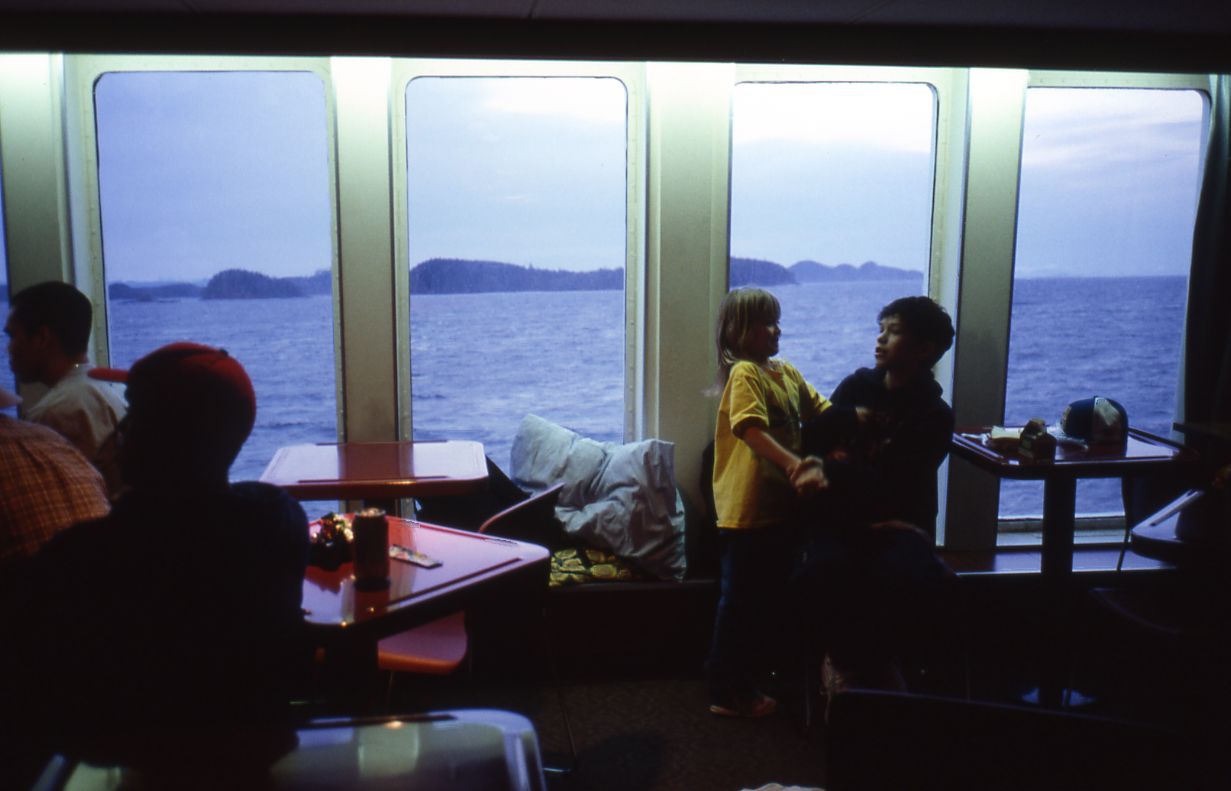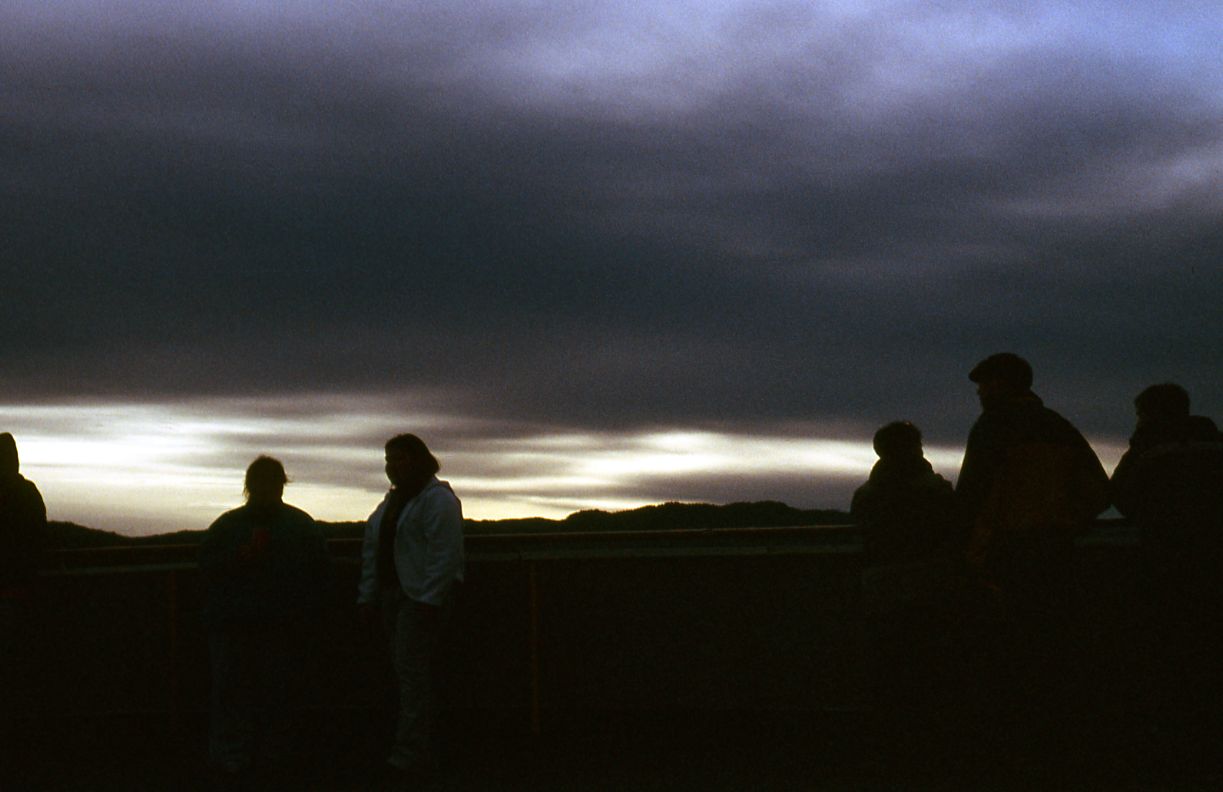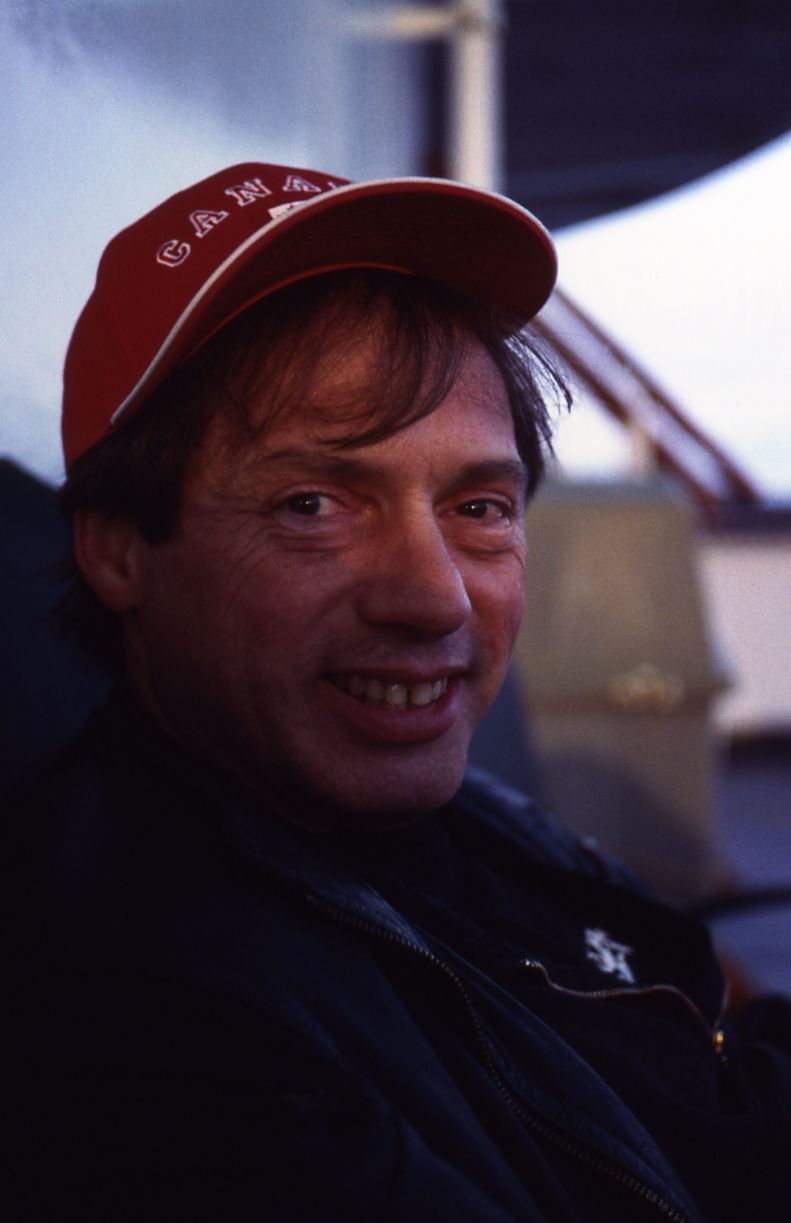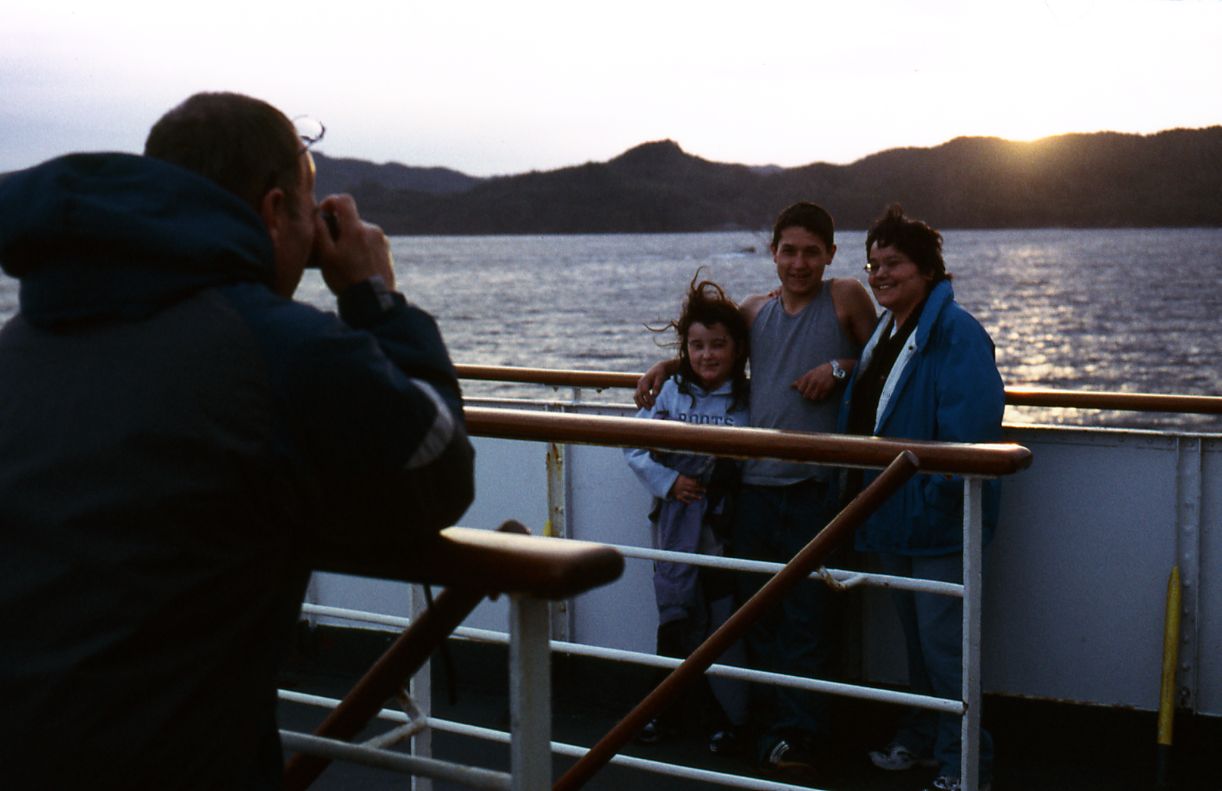 It was about dinner time, and the restaurant was in confusion with a lot of people. In a line to receive dishes, there was an Indian woman seemingly similar age of mine. I remembered I saw her on the deck. For there were no knockouts on board, she somewhat attracts me at first. She wore a colourful dress, however, approaching her I found she wasn't beautiful. However, she sat my table without hesitation with a can beer on tray as me.
She didn't speak out so much, but she said she was from Queen Charlotte Islands after traveling several inland places including Edmonton on the way home; so, she was alone without company apart from a number of kids, "I am bored with my life, I want to reside in urban area." When appeared that I was interested in Halibut fishing, she said that she used to be a fisher-woman catching a lot of Halibut, and that since the season got in she could guide me on boat from Queen Charlotte Islands. Hum, as if her man-like body told her previous profession.
The price she mentioned for arranging a Halibut fishing sounded pretty expensive, but rather the low-level attitudes and behaviours the kids showed deprived me of eagerness to cross over to Queen Charlotte Islands from Prince Rupert. Showing an Indian fishing book with a lot of illustrations I bought at Quadra Island, she said that this used to be the way they fish but not now, and that written by a White might make some differences in perception.
There were already people spreading out their rugs between and around the seat-lines and trying to sleep. On the other hand, bad boys and girls were going to and coming from a game machine room chatting loudly. I managed to keep a seat at a very front of a cabin, and I, too, tried to sleep reclining the seat fully. Except that, I had nothing to do with the complete darkness outside. Even it was far apart from the engine, its vibration was far beyond my imagination. I further drank the whisky but never could sleep.
Opened my eyes, I realised my next seat was Mic and then the Indian woman closing eyes. I remember the ferry stopped once for a long time spotting a huge light towards a coast; there seemed fairly wild with nothing to be seen. Other than that, when occasionally saw outside the windows lots of tiny lights of fishermen boats passed in the narrow aisle of the sea. I guessed the Linda's husband might be on one of them.
I already decided to shoot the dawn of the sea way. But nothing was so much significant than continuing similarly looked mountains on both sides. When the ferry reached Prince Rupert around noon, what I only want to do was to take a rest on a bed.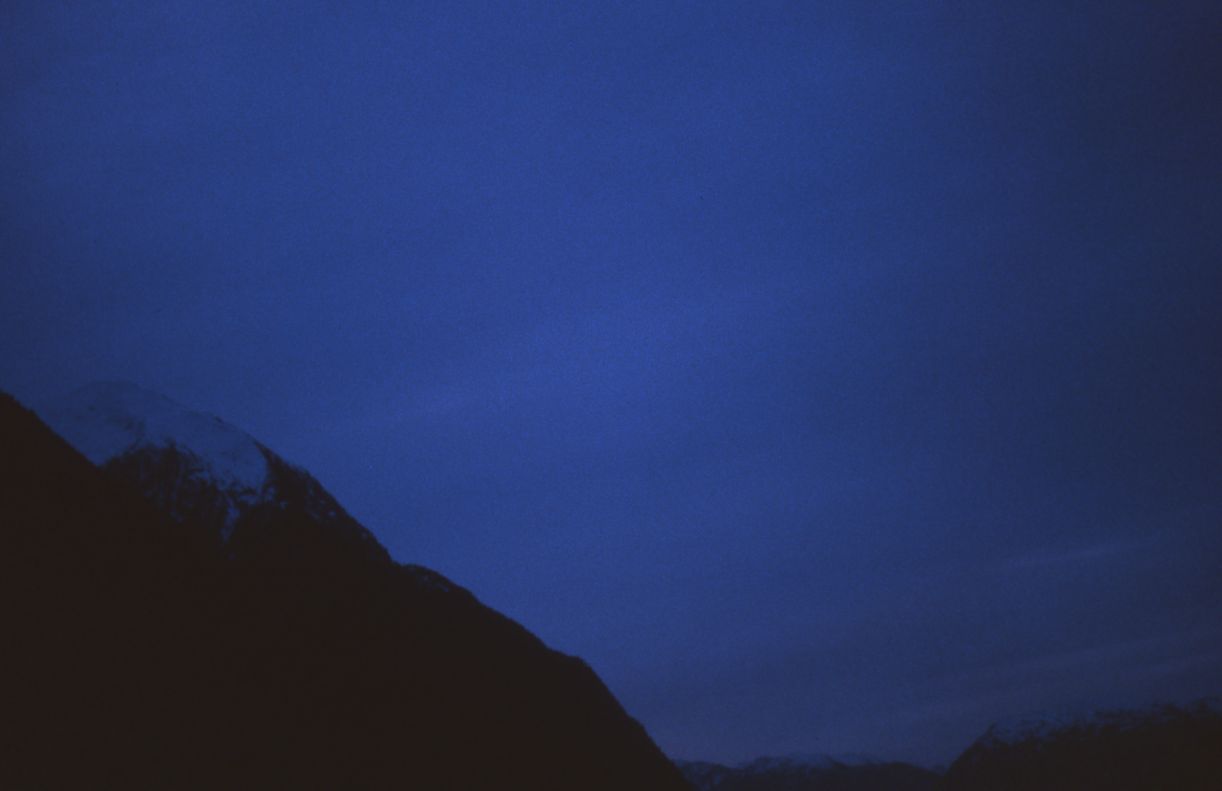 On the way back to Greyhound, I dropped by the BeeHive and tried a Lunch Jambalaya this time. But it was not as good as the Lunch Ling I ate previously because the hot source killed the precious taste and flavour with plenty of seafood; nevertheless far better than other ordinary Canadian Western style restaurants.
Apart from Campbell River on the bus became sparsely populated, and I felt I came to north at last. Other than some port towns where rough boys were smoking each other without words, a mass of cedar trees continued until Port Hardy. Getting off at the ferry port, Port Hardy had nothing to be seen. Only huge number of Indian children were spreading in the parking lot out of a waiting room building.
No restaurants or foods shops were around there, which seemed not commercialised yet. The ferry was named "Queen of the North," which was supposed to take the inside passage with mid-coast stops for 17 hours. The cars were full and passengers seemed also almost full with a lot of Indian children; taken its procedure delayed the 6:00 pm departure time. With full compartments the passenger seats were almost occupied by the children for their sleeping spaces when I got on board.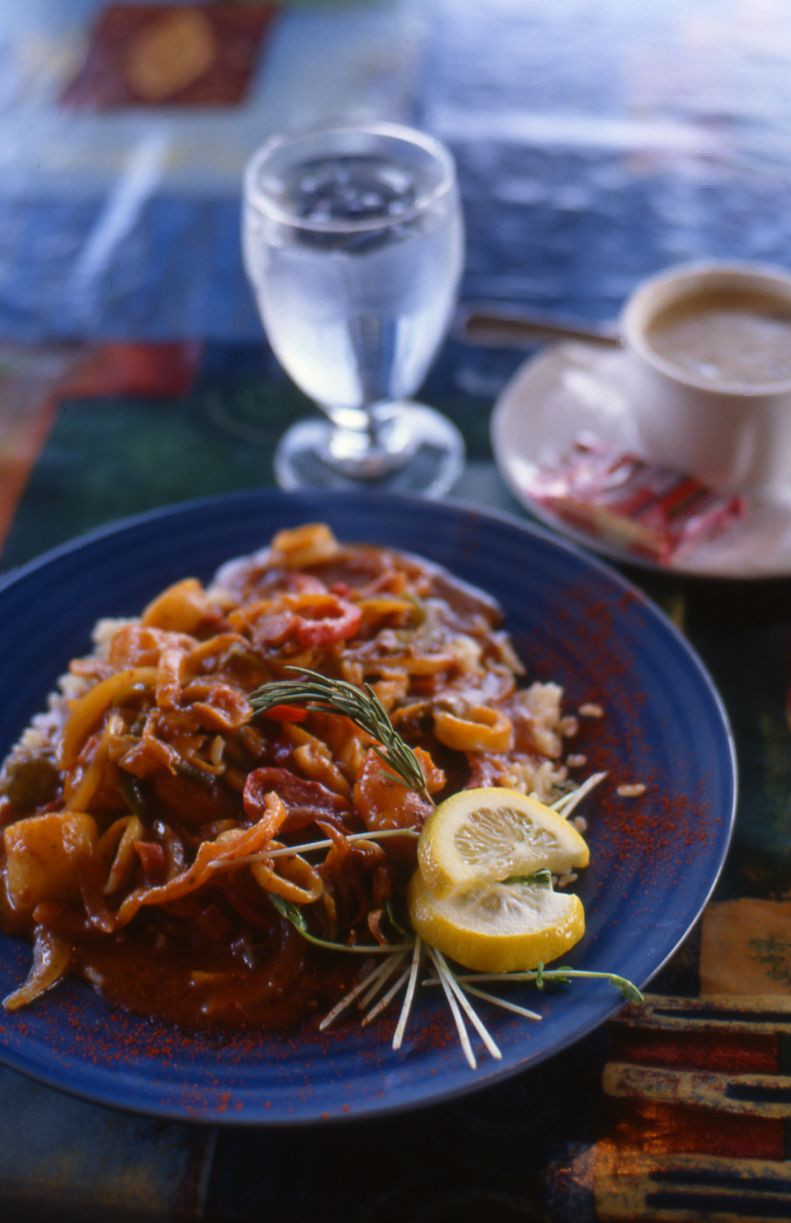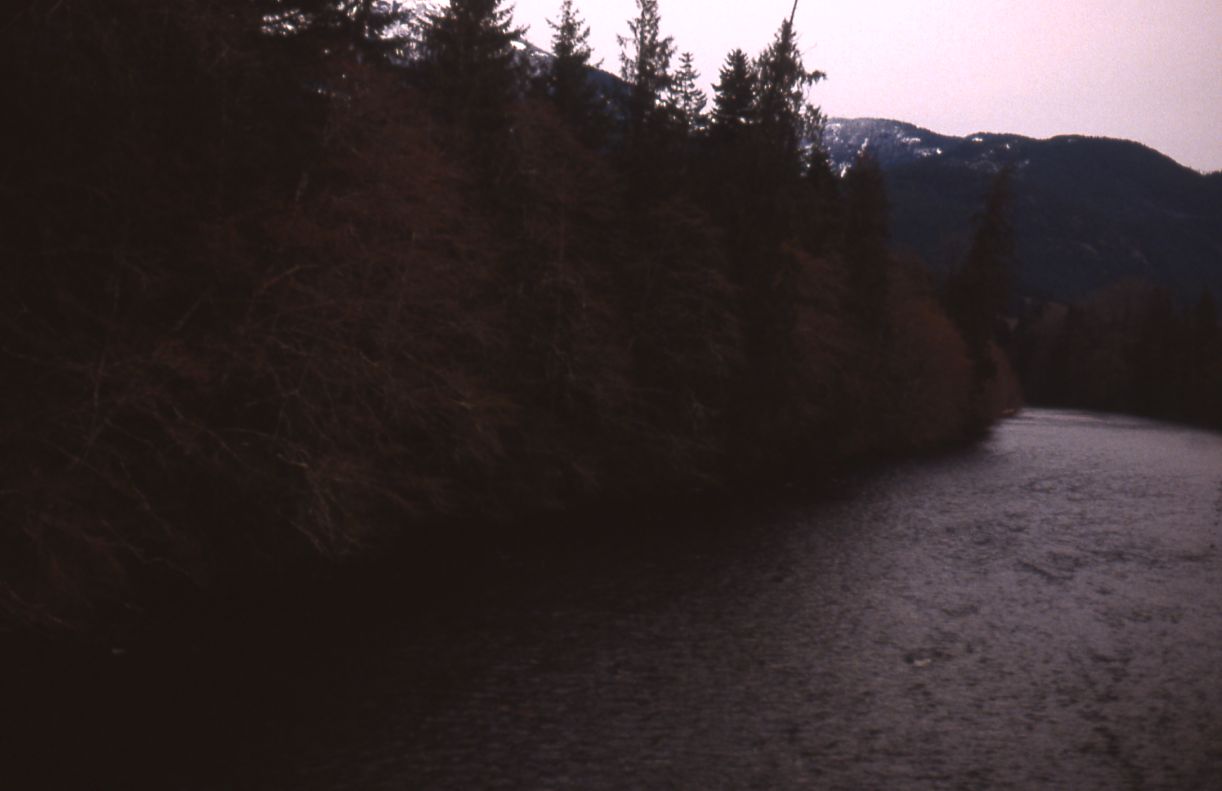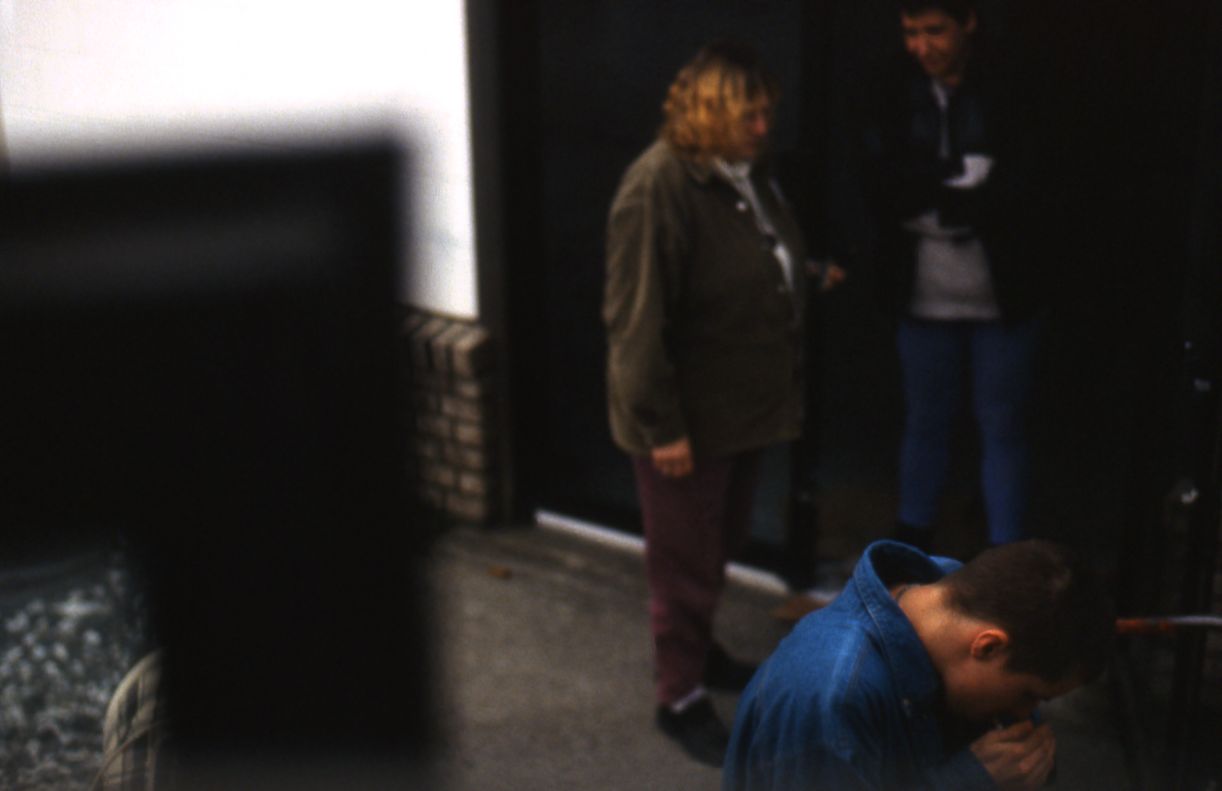 A photos & nonfiction for going and coming across Canada in a touring wagon. カナダ大陸をツーリングワゴンで往復横断するフォト&英文ノンフィクション。 Author: Tetsuya Endo
Mac Display sRGB IEC61966-2.1 (Native Whitepoint) Standard for the Photos
■Tetsuya Endo Links
BUY TETSUYA ENDO'S PHOTOS & DESIGN MATERIALS in DL-MARKET
Transition Japan - Utsuroi

-Confess of why I left Japan opens to the public now-
Tetsuya Endo (Portfolio)
原点—僕の街へ
Starting point : looking for my town
Tetsuya Endoさんのプロフィール - 写真素材 [フォトライブラリー]

-日本、カナダ、フィリピンの写真をオンライン販売-
My Japanese Blog:
アジア穴場リゾート情報・プエルトガレラより愛を込めて[Puerto Galera Wedding]
Blog Group, "ECOH!" for Post-materialism, listed at BlogCatalog
Tetsuya Endo - http://www.artmajeur.com/tetsuyaendo
■Tetsuya Endo Profile
Born in Shizuoka-prefecture, Japan, 1961. BA, Seikei University (Major: Cultural Science) in 1985.
As a copywriter (creative director) in the Japanese advertising industry for over 15 years, I have never been satisfied with and by compelling myself and others to sell and buy goods. Thus, I left Japan or its materialism for apparently nature-co-existing Canada, where as photographer finding that I can't be a Japanese without Asian background prompted me to settle in the Philippines. While challenging a new business by the slogan "Economy & Ecology, ECOH!," I have been looking for a publisher for this "A Man Goes to North" and also "
Transition Japan
."
1961年、静岡県生まれ。成蹊大学文学部文化学科卒。
日本デザインセンター、東京グラフィックデザイナーズをはじめ広告企画制作業界でコピーライター、後クリエーティブディレクターとして15年以上務めるも、売れども売れども、買えども買えども満たされず。カメラを手にカナダ横断を往復するドライブで「アジアの日本人」でありそれ以外何者でもないアイデンティティを悟るとフィリピンに移住。"Economy & Ecology, ECOH!"をスローガンに新しいビジネスに挑戦しながら、この「A Man Goes to North」及び「
Transition Japan
」を上梓できる出版社を探している。
Contact:
tetsu95jp@yahoo.co.jp
cell: +63.928.707.2843
■Mutual Links
le blog de cecyl, le petit poète breton
カテゴリ
以前の記事
その他のジャンル
ファン
記事ランキング
ブログジャンル
画像一覧
No part of this publication may be reproduced for use in any form, without prior written permission of Tetsuya Endo. 掲載画像・文章の無断使用は禁じています。全コンテンツの著作権・版権はTetsuya Endoが有しています。